RB promises to tackle poverty in Luapula
Time Posted: October 9, 2008 7:20 pm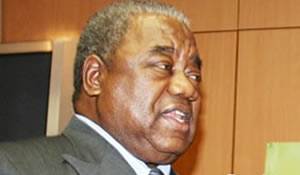 Acting President Rupia Banda has pledged to address the problem of poverty in  Luapula by focusing at exploring the vast mineral and water resources potential for the benefit of the people in the province.
Mr. Banda said Luapula Province has a lot of potential which could contribute not only to improve welfare of the people of the area but the national economy as a whole.
Mr. Banda was speaking on arrival at Mansa airport where he addressed hundreds of residents who gathered to welcome him.
Mr. Banda said once elected President he will address the existing poverty on the area as a challenge in order to achieve positive results.
He said his generation of leaders are determined to take over from where President Mwanawasa left and ensure that all developmental programmes initiated are completed.
He said he is a proud man to have the opportunity to officially launch the levy Mwanawasa Bridge across the Luapula River.
I am proud that I have the opportunity to open the bridge across the Luapula River which is the brain child of late President Mwanawasa.
Mr. Banda said the late Dr. Mwanawasa will be greatly missed by the people of Luapula Province for the initiative to embark on the bridge construction project across the river.
Earlier Luapula Province Minister Chrispine Musosha said the people of Luapula Province  are happy with the MMD government for the various developmental projects embarked on in the area.
He sited the palm- oil out grower scheme and the construction of the Levy Mwanawasa Bridge as among key projects whose objective are to enhance economic projects and help create wealth among the people.
Mr. Musosha is confident that the levy Mwanawasa Bridge, which will be officially opened this Saturday will improve trade not only between the province and the Copperbelt but the rest of the country and the Eastern Southern African region.
The Provincial Minister said the Province which has vast tourism potential has also been given various opportunity to show case its rich tourism both for local and foreign investors.
He further indicated that people in Luapula Province are happy with the path taken by government in the constitution making process.
He said people are confident that the durable National Constitution will be achieved through the National Constitution Commission (NCC).
Mr. Banda  is in the province to check on developmental projects and officiate at the Kwanga ceremony and launch of the Chembe Bridge.
He is also expected to hold a number of campaign meetings in the province.