Police probe Patriotic Front leader
Time Posted: October 27, 2008 8:44 pm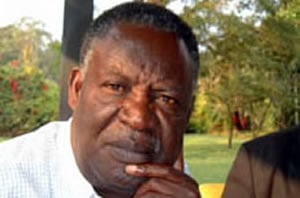 Police in Itezhi-Tezhi are investigating reports indicating that Patriotic Front Leader, Michael Sata, grabbed keys from a ZANIS driver on suspicion that his vehicle was carrying presidential ballot papers.
Police and the District Commissioner, Leonard Shampile have confirmed the development to ZNBC news in Livingstone.
Mr. Sata is said to grabbed the keys from the ZANIS driver after he addressed a public rally in Itezhi Tezhi.
Mr. Shampile said Mr. Sata who was in a company of a senior party member, Wynter Kabimba, almost caused an accident as he tried to intercept the ZANIS vehicle which was in front of his vehicle.
He said Mr. Sata also opened the boot of the vehicle but that to his disappointment there was nothing inside.
Mr. Shampile said he was disappointed with the behaviour of Mr. Sata.
He said the ZANIS crew could have lost their lives because of Mr. Sata's irresponsible behaviour.
He said there is need for politicians to conduct their activities in a dignified manner.
[ZNBC]