Respect former first lady Maureen – Mama Kankasa
Time Posted: November 8, 2008 9:54 pm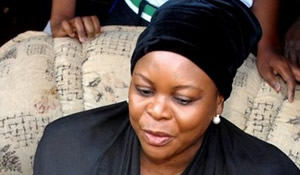 Veteran freedom fighter Mama Chibesa kankasa says former first lady Maureen Mwanawasa should be respected as she and the rest of her family were still mourning her late husband  and father Dr Levy Mwanawasa.
Commenting Federation of the Free trade Union of Zambia ( FFTUZ )president Joyce Nonde over Mrs Mwanawasa's refusal to occupy a house in Roma Township government had found for the first lady, Mrs Kankasa urged Zambians to respect the former first lady and the Mwanawasa family.
Mama kankasa explained that the former first lady was not being difficult in as much as she is supposed to adhere to government 's offer.
She said Mrs Mwanawasa was merely following President Banda's directive for her to vacate State House , but she was  equally told by the president  that she can only move from state house after the government found a house of her choice.
This is according to a statement made available to ZANIS in Lusaka, Saturday.
The veteran politician said it was not the first lady's own doing but she was just following what she is entitled to.
Mama kankasa expressed disappointment that established public figures like Ms Nonde were not Zambian saying as a fellow woman, the union leader should be supportive to Mrs Mwanwasa and her bereaved family.
She noted the need to appreciate what government was doing to console the former first lady in whatever difficulties she was passing through.
Ms Kankasa said Ms Nonde should have first gone to visit the first lady in a friendly manner and inquire about the state of the house before issuing a media statement.
She urged her to love and support one other so that peace and harmony amongst each other and the nation can be fostered.
this follows an observation made on the article  published in the News paper in yesterdays Post, politics of Appeasement shouldn't be encouraged -Nonde.
ZANIS/AH/ENDS/MM