RB welcomes tribunal to probe Siliya
Time Posted: February 20, 2009 5:10 pm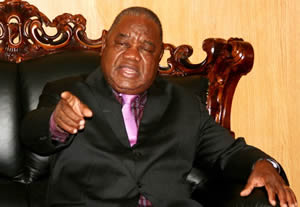 President Rupiah Banda has welcomed the setting up of a tribunal by Acting Chief Justice Ireen Mambilima to probe allegations leveled against Transport and Communications Minister Dora Siliya.
State House Chief Analyst for Press and Public Relations Dickson Jere confirmed this in a statement released to ZANIS in Lusaka today.
Mr. Banda hoped that all those involved in the ongoing debate would allow the tribunal established under the Ministerial and Parliamentary code of conduct to conduct its work in a professional manner.
He said he has since written to the Acting Chief Justice informing her that he had instructed the Secretary to the Treasury to make financial provisions for the tribunal's operations.
"I wish to say that I am happy that the tribunal has been constituted and I am confident that justice will prevail," President Banda said.
The President has also since appealed to all Zambians to refrain from making comments, which could be prejudicial on the matter as it is now before a competent tribunal.
He said the nation should wait for the final verdict of the tribunal after conducting its proceedings.
ZANIS/AJN/AM/ENDS