Baboons temper with ZNBC's dish antennas in Itezhi-tezhi
Time Posted: March 12, 2010 7:35 am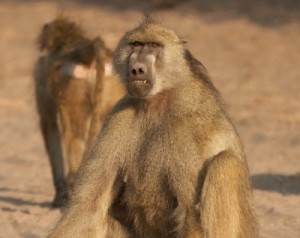 A head of baboons has tempered with the Zambia National Broadcasting Cooperation (ZNBC) receiving dish in Itezhi-tezhi district disrupting television signal.
The incident happened barely two days after ZNBC restored its television signal to the district after more than one month without signal.
Itezhi-tezhi Acting District Commissioner (DC) Hampende Hichilema confirmed the incident to ZANIS in interview that the wild beats descended on the ZNBC installation on Saturday morning and disturbed the dish.
"The incident happened on Saturday when a group of baboons were playing around the dish and in the process they moved the dish from its position and some cable to the LNB got disturbed" he said.
A check at the ZNBC dish by ZANIS revealed that the dish was slightly moved off its position and some rods supporting the dish were bent.
The Acting DC has asked ZNBC to provide protection of the satellite dish to prevent further damage of the installation by the baboons.
Meanwhile Itezhi-tezhi residents have asked ZNBC to urgently restore the signal to Itezhi-tezhi.
One resident Mukubulo chilufya appealed to ZNBC to treat the loss of the signal to the district with urgency so that the district is not left in the dark in terms of information and current affairs.
Itezhi-tezhi residents have appealed to the ministry of information and broadcasting and the Zambia Communications and
information technology authority (ZICTA) to expedite the issuance of a license for Itezhi-tezhi radio station which has been test transmitting for more than five months.
The residents said that there was need for the authorities to urgently issue the license to the station so that people can be listening to
developmental programmes as opposed to the current scenario where the radio station is just playing music.
They said that the issuance of a radio license has been dragging for too long despite the radio board putting everything in place for the radio station to run smoothly.
Chilufya Mukubulo said as residents they need good programmes that are developmental in nature to start airing on the community radio station as opposed to music only.
He said the radio station will play a critical role in informing Itezhi-tezhi residents on current affairs especially those that have no
access to ZNBC radio.
And Lucas Chiwele one of the board members at the station said that test transmitting for more than four months is very costly for a radio station because the radio station cannot generate revenue from advertisements and other programming.
He said the station was having difficulties to operate smoothly due to lack of funds.
ZANIS