KCM Kafue river pollution irritates MP
Time Posted: January 17, 2011 2:14 pm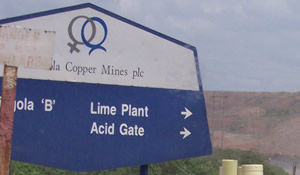 Nchanga Member of Parliament Wilbur Simusa has said the continued pollution of the Kafue River by Konkola Copper Mines is irritating.
Mr. Simusa said as an MP affected by such reports, he will put his foot down to ensure that the act is stopped by the country's biggest mining company.
He said it is disappointing that the government seems to be dragging its feet in addressing such an important issue.
The parliamentarian explained to QFM NEWS that with the continued pollution of the river, people's lives were at stake.
Mr Simusa said the failure to find a lasting solution to the continued pollution of the Kafue river, a source of water for many residents of the copper rich province, will be disastrous to the nation.
The lawmaker stated that he will engage different stakeholders on how best they can help in avoiding the spillage of chemicals into the river.
KCM was last week reportedly to have again contaminated the Kafue river for the third time.
But KCM deputy chief executive officer Jeyakumar Janakaraj said there was no pollution that happened in the Kafue river.
In an interview over the weekend, Mr. Janakaraj said the normal protocols are followed for any discharges that happen due to interruptions in the operations.
Mr. Janakaraj said the explanation given to the Environmental Council of Zambia was being misinterpreted in some media releases.
He explained that the river is much better that it was in previous years.
The Environmental Council of Zambia has however instituted investigations to ascertain the extent of contamination Konkola Copper Mine has caused to the Kafue River before imposing sanctions against the mining company.
This is the third time the mining company is reported to have polluted the Kafue River.
In 2007, the ECZ ordered the mining firm to close its tailings leach plant after it polluted the same river, the main source of water for residents on the Copperbelt.
QFM