Hichilema promises to transform Luapula's vast mineral resources
Time Posted: September 12, 2011 9:37 am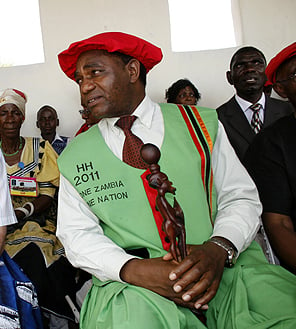 UNITED Party for National Development (UPND) leader Hakainde Hichilema has promised to transform Luapula's vast mineral resources into tangible wealth for the people if elected as Republican president.
Mr Hichilema during a campaign rally at Muchinka Basic School grounds in Mansa on Saturday that Luapula Province was endowed with many minerals and other natural resources which should be tapped to improve the people's standards of living.
"Land, water and minerals resources which God has given you the people of Luapula is wealth. Zambia is too rich but the problem which we have as a country is caused by our leaders," he said.
Mr Hichilema said during the rally, which was also attended by some European Union (EU) election observers, that he would reintroduce windfall tax for the mining sector in order to maximise the country's gains form its mineral resources.
He said windfall tax would attract K800 billion for the country annually. "Part of the K800 billion would be used to pay public workers a minimum salary of K5 million per month," he said.
Mr Hichilima, who earlier in the day addressed a campaign rally in Samfya District, said he was confident of winning the September 20 presidential elections and reminded the electorate to fulfill their promise to vote for him in the 2011 polls.
"During the 2008 presidential by- elections the people of Zambia told us the UPND that they would vote for me as president after allowing Mr Rupiah Banda to complete late president Levy Mwanawasa's term of three years.
"I have great respect for [Mr] Rupiah Banda and [Mr] Michael Sata but the two leaders have run their course," he said.
During the rally which attracted a sizable crowd, Mr Hichilema also introduced his party's parliamentary candidate for Chembe and Bangweulu constituencies, Arthur Mofya and Catherine Kabaso, respectively.
Some local government election aspiring candidates for various wards in Mansa were also introduced. The UPND president is accompanied by some members of the National Management Committee.
Mr Hichilema was today expected to address rallies in Mwense and Mambilima constituencies and pay a courtesy call on senior chiefs Mwata Kazembe and Lukwesa before he concludes his tour of Luapula Province.
[Times of Zambia]