Bank of Zambia should explain fake money allegations – Magande
Time Posted: February 5, 2012 7:41 am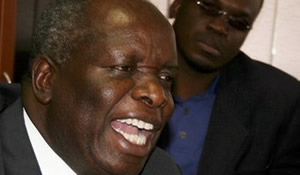 Former Finance Minister Ng'andu Magande has said that the bank of Zambia should explain the reports that the MMD printed fake money.
Mr. Magande said that the bank of Zambia should come and tell the nation what went wrong in the printing of the money.
In an interview, Mr. Magande stated that the printing of currency is the responsibility of the bank of Zambia.
He added that if the reports are not verified, it has the capacity to cause panic in the running of the government.
He said that the bank of Zambia should ensure that it explains to the Zambians on the allegations of printed fake money.
Commerce minister Bob Sichinga revealed on Thursday that the MMD government printed fake notes from China which they used to distribute in the villages during campaigns.
Mr Sichinga said that the money was printed in China and was dished out to rural areas to woo voters.
Mr Sichinga went on to say that part of the bogus K 3 trillion had initially been intercepted at NAKONDE Border Post in MUCHINGA Province by Vigilant members of the public.
Mr Sichinga made the disclosure in Kitwe when he addressed members of the business community at a consultative meeting.
Inspite of the massive illegal print of counterfeit money, the PF won the September 20 tripartite elections because the people of Zambia wanted change, Mr Sichinga concluded.
QFM