Avap calls for printing of ballot papers locally
Time Posted: February 20, 2012 6:53 am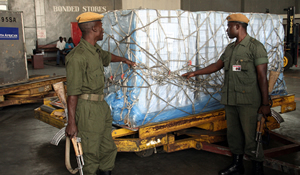 A civil society organisation has called on Government to pump money in Government Printers to enable the printing firm to print ballot papers.
Anti Voter Apathy Project (AVAP) Executive Director Richwell Mulwani said Government Printers has the potential to print ballot papers if it is funded adequately.
Mr Mulwani told Zambia News and Information Services (ZANIS) in an interview in Lusaka yesterday that the company has in the previous printed important documents which demonstrates its capacity of printing ballot papers as well.
He said Zambia has set a good example in the region through conducting peaceful and free elections hence the need for the country to consider printing ballot papers locally.
Mr Mulwani noted that the printing of ballot papers locally would increase credibility of holding elections and reduce suspicions among political players.
He said the development could also promote transparency in the printing process and give political players an opportunity to monitor the process.
Mr Mulwani also added that the move to print ballot papers locally will greatly assist in reducing cost of having them printed in South Africa.
He wondered why the Election Commission of Zambia (ECZ) should continue printing ballot papers outside the country when the country has the capacity to print the ballot papers locally.
Mr Mulwani said it is high time the local printing firm was empowered unlike empowering foreign printing firms.
He further called on the government to consider funding Government Printers so that the institution is able to print the 2016 general elections.
ZANIS