Anyone planning to challenege HH should wait for the party convention-UPND
Time Posted: March 8, 2012 12:05 pm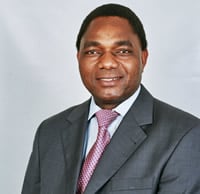 The opposition United Party for National Development (UPND) has challenged party members allegedly planning to challenge party president Hakainde Hichilema to come out in the open instead of causing instability in the party.
UPND secretary general Winston Chibwe said that anyone who has plans of challenging Mr. Hichilema should wait for the party convention.
Mr. Chibwe said that it was cowardice behavior to rush to the media to spread unwarranted information about the party president when the right channel of dialogue can be followed.
Speaking in an interview with QFM, Mr. Chibwe said that the UPND is a democratic party and any person with intentions to stand on any party position should patiently wait for the party to hold its convention where new leaders will be put in office.
QFM