Cabinet office is disorganised- Sata
Time Posted: April 13, 2012 9:46 am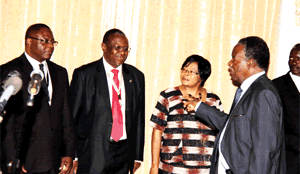 PRESIDENT Michael Sata was yesterday angered at the decision by Cabinet office to arrange presentation of a report on National Pension Scheme Authority (NAPSA) in the absence of the chairperson Sebastian Zulu.
Mr Sata asked Finance and National Planning Minister Alexander Chikwanda where he got Mr Chibiliti and Mr Mulonga as the two stood mute side-by-side.
"Mr Chikwanda, where did you get these two people? There is a lot of dust which is swept under the carpet," President Sata said.
President Sata said Cabinet Office was "disorganised" and wondered why the presentation of the report was delegated to Home Affairs Deputy Minister Ngosa Simbyakula.
Referring to Dr Simbyakula, the President said; "I did not appoint any one of these to be chairperson of this committee."
Mr Sata expressed disappointment with Secretary to the Cabinet Evans Chibiliti and his deputy Teddy Mulonga who were present at State House.
President Sata cancelled the presentation ceremony as members of the committee and invited guests stood ready in the hall.
The technical committee was constituted to probe NAPSA's bid to finance the Zambia National Building Society (ZNBS) development of Central Arcades and refurbishment of Society House to the tune of US$98 million.
Mr Zulu is in Durban, South Africa attending a meeting on the African Peer Review Mechanism.
Speaking after the deferment of the ceremony, Permanent Secretary for administration at Cabinet Office Annie Sinyangwe said the ceremony would be held when Mr Zulu returns from South Africa.
"We have to arrange another day. The President was supposed to receive a report on the acquisition of Farm Number F/382/A/B15 and the financing of ZNBS Central Arcades. But that could not happen because the chairman is not here," she said.
The technical committee was constituted to probe the suspected financial irregularities in the previous administration which started in 2009 when various potential investors, both local and international approached ZNBS to finance the refurbishing of Society House and Central Arcades.
An invitation to consortia was issued and 11 bought the bidding document on August 11, 2010 but there were allegations that the whole transaction was politically-driven in disregard of the law.
[Times of Zambia]