Henry Banda vows never to set foot in Zambia
Time Posted: April 17, 2012 8:01 am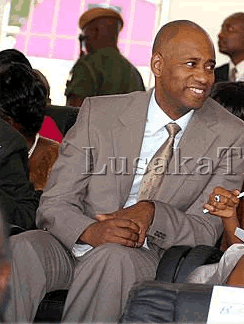 FORMER president Rupiah Banda's son, Henry, has broken his silence indicating that he will not step his foot in Zambia because he has 'legitimate doubts' about whether he would receive fair treatment from investigative wings.
Henry said he had reliable information that he was a 'marked' man.
Henry told the Mail & Guardian in South Africa at the weekend that he could not return to Zambia because he felt that he had already been judged.
He confirmed that he was living in South Africa and added that it would be unwise for him to return home because of the rejection by the Zambian authorities to specify the charges against him.
He said he had held permanent residence status for several years by virtue of being married to a South African.
Henry said his lawyers had contacted both the Zambian and the South African authorities to establish the facts about his case.
The son of the former head of State is wanted in Zambia in connection with his alleged involvement in corrupt government deals at the time his father was Republican president.
According to Henry, the Zambian authorities had ignored his legal representatives' requests for information, which supported the view that the charges were fabricated.
South African High Commissioner to Zambia Moses Chikane said recently that his country would cooperate in Henry's case as long as all procedures were followed.
Foreign Affairs and Tourism Minister, Given Lubinda, recently said the Zambian Government was engaging South Africa over the matter.
Meanwhile, Henry's lawyer Robert Amsterdam has said comments from Patriotic Front (PF) secretary general, Wynter Kabimba and Chief Government spokesperson, Fackson Shamenda, towards him are defamatory in nature and a violation of Henry's right to a defence lawyer.
In a statement from Amsterdam & Peroff LLP on Sunday, Mr Amsterdam who is reported to be in Washington DC said:
"The regrettable choice on behalf of the ruling Patriotic Front party and officials of the Zambian Government to threaten and harass defence counsel should stand as a defining illustration of how the Henry Banda case is being handled: arbitrary, without grounds, in violation of due process and international norms, and driven by political motivation."
He said by seeking to intimidate lawyers with patently absurd claims, the Zambian Government was unlawfully violating Henry's right to a defence counsel.
[Times of Zambia]