Suspected criminals shoot dead Pilot and Guard in Livingstone
Time Posted: April 18, 2012 8:25 am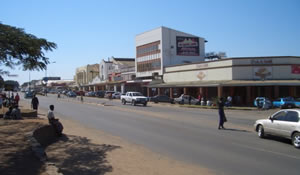 THREE gunmen stormed a lodge in Livingstone and shot dead an expatriate pilot and a security guard before turning the barrel on a French woman whom they wounded.
The bandits who drove to the lodge in a hired vehicle got away with K4 million cash from the groaning woman and also made off with an assortment of goods as frightened patrons lay on the floor in the tourist capital known for a long time to be peaceful and serene.
Sergio Valle, 48, and a security guard identified as Jacob Chirwa aged 30, were shot dead at point-blank range and died on the spot.
Mr Valle is a Spanish working as a pilot at Batoka Sky in Livingstone.
The French woman, Marie Noelle Carre, was seriously wounded in the shooting and was rushed to a Lusaka hospital for treatment.
Southern Province Commissioner of police Brenda Muntemba confirmed the deadly attack on unsuspecting patrons around 21:00 hours on Monday.
It was the usual peaceful atmosphere which the gun-totting men disturbed when they ordered all the patrons to lie face-down while the owner of the lodge tried in vain to rescue the traumatised visitors.
The gunmen fled soon after the incident and police indicated they were hard on their heels to track them down.
Sources said Ms Carre flew into the country recently and was trying to settle down in Livingstone.
"Those who operate taxis should be the first to alert the police when suspicious-looking people try to hire their cars. We are, however, making headway to catch these criminals. We are also appealing to members of the public to help us arrest these criminals," Ms Muntemba said.
Zig Zag Lodge co-owner Lynne Silawa said her husband Vasco, had managed to warn tourists who were in the area during the shooting to run away.
By 10:30 hours yesterday, Zig Zag Lodge management posted a notice on the entrance indicating: "Sorry, we are closed".
Ms Silawa said in an interview that all workers at the lodge were devastated at the shooting.
She said Livingstone was a peaceful place adding that with the shooting, it would be difficult to attract tourists and other guests.
Livingstone Tourism Association (LTA) Chairperson Kingsley Lilamono said it was unfortunate that such an incident occurred when stakeholders were engaging the police to beef up security ahead of the United Nations World Tourism Organisation (UNWTO) General Assembly next year.
Home Affairs Minister, Kennedy Sakeni has since directed police to ensure appropriate security measures for local and international visitors in the tourist capital.
Mr Sakeni said at a Press briefing in Lusaka yesterday that President Michael Sata and Zambians were saddened about the shooting of the victims and described it as a barbaric act.
"The criminal act of shooting at and killing innocent people cannot in any way be justified and this Government through its law enforcement agencies will ensure the culprits are traced and brought to justice," he said.
He said the Government attached great importance to tourism and criminal acts directed at tourists and any foreign nationals in Zambia could impact negatively on the economy.
[Times of Zambia]