Movie review : The Avengers
Time Posted: April 30, 2012 4:19 pm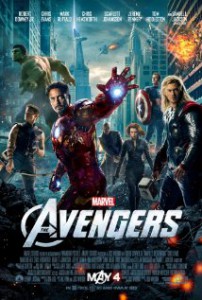 Marvel Studios presents Marvel's The Avengers-the Super Hero team up of a lifetime, featuring iconic Marvel Super Heroes Iron Man, The Incredible Hulk, Thor, Captain America, Hawkeye and Black Widow. When an unexpected enemy emerges that threatens global safety and security, Nick Fury, Director of the international peacekeeping agency known as S.H.I.E.L.D., finds himself in need of a team to pull the world back from the brink of disaster. Spanning the globe, a daring recruitment effort begins..
Pros
Great cast who performed exceptionally well
Excellent  unpredictable story line
The action scenes were spectacular
FAVORITE QUOTES
Captain America: Big man in a suit of armor. Take that away and what are you?
Tony Stark: Uh, genius, billionaire, playboy, philanthropist…
CONCLUSION
Rather than creating an uneven mix or trying to focus more heavily on any one specific character, writer/director Joss Whedon has constructed The Avengersas a balanced ensemble. In addition to everyone getting at least one great action sequence, all of the characters are fully fleshed out and given an arc to work with, whether it's Captain America's struggle to adjust in the modern world, Thor's guilt about his brother, Iron Man's ego and single-mindedness, or Hulk's fear of his own power. Even Black Widow and Hawkeye, who were largely minimized in their previous appearances, are fully fleshed out and provided with backstories that give us a better understanding of their characters.
It is an absolutely amazing movie that the whole family will enjoy.
RATING
5 out of 5

By Kapa187