President Sata promises a national fire policy, creates a new District in Luapula Province
Time Posted: May 4, 2012 3:35 pm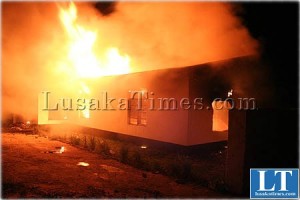 President Michael Sata says government will formulate a national fire policy to provide overall guidance in the provision of fire services.
Mr Sata says it is regrettable that 47 years after independence, Zambia still does not have a national fire policy.
He says his government will start prioritizing fire fighting and rescue services in the national planning and resource allocation.
The president said this in a speech read for him by Local Government Minister Nkandu Luo during the commemoration of the first ever celebrations of the fire fighters in Lusaka.
And the President has also declared May 4th as the officially day for commemorating the event in the country.
Meanwhile, President Michael Sata has with immediate effect created Chembe as a new district in Luapula Province.
"…Would you please liase with all the stakeholders, political parties and their Royal Highnesses in order for them to establish the centre where the district headquarters will be located," read the excerpt from President Sata's letter to Luapula Province minister Hon. Rodgers Mwewa.
Since taking over office, President Sata has been establishing districts countrywide in line with his campaign promise to decentralise government operations for the effective and efficient delivery of services to the people.
ZNBC