Zone Fam have signed to Taurus Musik based in Kenya
Time Posted: July 17, 2012 2:20 pm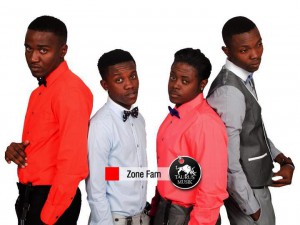 Zambian rap group Zone fam announced , at Press Briefing held at Sterkinekor , that they have signed to Kenya based music label Taurus Musik.  This will see them spreading their music across Africa and the globe.
PRESS RELEASE
Exciting news from Taurus Musik comes to you in the form of our latest band to be signed; Zone Fam. Lusaka's energetic Hip Hop group consists of four members namely; Dope G, Jay Rox, Yung Verbal and Thugga, the group was founded in 2009 by Mr. Duncan Sodala.
What brought the members together was a mutual love and passion for Hip Hop and has enabled them to effortlessly work on timeless music together. This can be seen in their solo mixtapes that were released in 2010 and their main album named The Business (Foreign Exchange) that featured prominent Zambian artists and went on to be one of the best albums in 2011.
Taurus Music is the latest branch of the Taurus Group . It caters for the entertainment industry in Africa. It aims to restore, build up and preserve African culture by infusing various cultures across the continent and ensuring that the outcome is vocal and lyrical perfection. It has major/talented artist from most parts of African signed under the label .
We have been able to achieve the following under our platform:
Create a brand around a name and a face and sustain the brand Guide, counsel , manage, represent the artist and bring out their full potentials. Distribution of music digitally through platforms such as iTunes as well as ringtones and CRBT's . Traditional spread of artist music through sale of CD's , we are able to reach the A-Z market segment and offer the quality product via Music outlets in the Uptown and Downtown markets respectively
Look out for Zone Fam singles like 'Shaka Zulu on em' that has over 50,000 hits on YouTube. They have nominations for the Channel O Music Award for the Most Gifted New Comers, won the Global Music Awards for Best African Group and nominated for being the Best Hip Hop acts on the globe. (4th Place).
We are on Twitter ( @TaurusMusik @Zonefam ) and Facebook : Taurus Musik and Zone Fam respectively. Get involved. Zambia stand up!
Visit The Taurus Musik Website:-
http://www.taurusmuzik.com/
Zone fam's Jay Rox ft Mampi "Roomie"
By Kapa187