Politicking is taking a toll on the pace of development-Chikwanda
Time Posted: August 17, 2013 9:13 am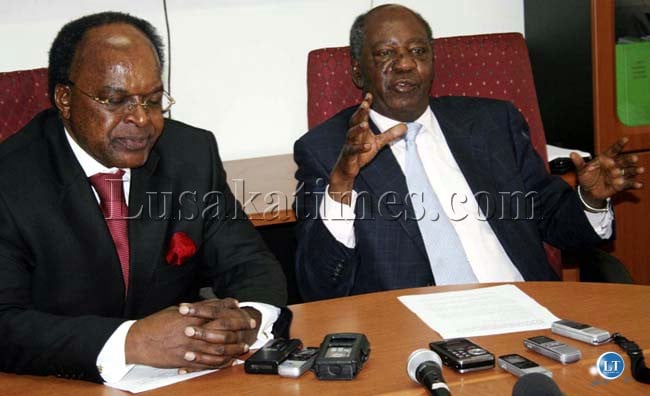 FINANCE Minister Alexander Chikwanda has called for an end to politicking as this is taking a toll on the pace of development.
Mr Chikwanda said the culture of political bickering was highly pronounced among Zambians, a trend he said negated development.
Mr Chikwanda said this in Chilubi District in Northern Province where, together with his Community Development, Mother and Child Health counterpart, Joseph Katema were commissioning the Kambashe Bream Fisheries pilot project on Thursday.
During a church service at Santa Maria Catholic Church, Mr Chikwanda said Zambia had continued to lag behind in terms of development compared to just one company in countries such as the United States of America.
"The backlogs of development arrears are huge. For 49 years of our independence, if you look at our Gross Domestic Product (GDP), US$22 billion, I mean that's what an American chain-store like Walmart makes in three weeks. That's our GDP. How can you walk with your heads up, Zambians, surely?" Mr Chikwanda wondered.
"We have got a long way to go and one of the things that retard us is politics. Politics is just too much in our place. Let us use more time, let's spend more time on development tasks."
He said it was imperative to unite for the sake of the country's development and not engage in abstracts.
Mr Chikwanda said the country was grappling with a backlog of development which needed to be cleared before attending to new programmes, and assured that the Government was committed to developing every part of Zambia.
"PF is here to stay and to bring development to every place. No place in Zambia shall remain out of reach. We shall reach out to the remotest parts of Zambia because that is our major thrust," he said.
It was in view of the developmental arrears which the PF Government inherited from previous administrations that the minister appealed to the citizenry to be patient and supportive to the Government as it strived to develop the country.
And Kasama Diocese Archbishop Ignatius Chama said the fish pilot project would improve the economic status of Chilubi, which had for a long time remained behind in terms of development.