New Zambian Sitcom coming to Muvi TV
Time Posted: September 23, 2013 12:43 pm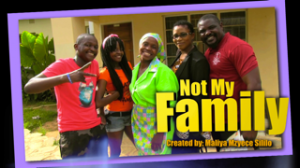 Starting on the 30th of September 2013, Not My family TV Sitcom we will be airing on Muvi TV on Mondays and Wednesdays at 17:50hrs.
Not My Family is an exhilarating situational comedy series that has been designed to engage Zambia in various social domestic issues that arise in a family setup. It is inspired by day to day experiences in a home; it's about the normal things that we all through day in day out, raising children, loving your partner and dealing with inter family drama.
Not My Family is classified as a situational comedy; it is shot on set by a professional crew and experienced cast. The sitcom has a perfect interplay between comedy and dosses of thought provoking social commentary on various pertinent issues.
This situational comedy centers on a modern middle-income Zambian family headed by Mate Chisola, his wife Jusi and two kids Makondo and Ngoza. Mate's mother 'Kuku' finds it hard to understand the fact that his son is self-employed and that he likes to help out with house chores. Kuku is convinced that his son is under petticoat government. Jusi, his wife is well aware of her mother in-law's accusations and is ready to face this delicate social quandary.
Mate now has to manage the relationship between the two women in his life, exacerbated with the challenge of raising two teenage children.
The concept was developed by veteran screen writer Maliya Sililo and the show is directed by Richard Msimuko and produced by Gardner Media.
BY KAPA187