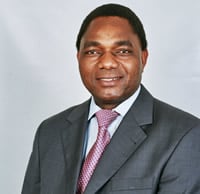 United Party for National Development (UPND) President, Hakainde Hichilema has reiterated his election campaign promise to hike civil servants salaries to a minimum of K 3. 5 million per month once elected President on October 30, this year.
Mr Hichilema made the reiteration when he addressed two separate meetings at Kabompo town and Manyinga in Kabompo district yesterday, he said he was saddened by the current low wages paid to civil servants; saying once elected his government would pay higher salaries.
Mr Hichilema also promised that his government would provide free education from grade one to university and that his government would give free fertilizer and seeds to small scale farmers for the first three years to enhance food production.
He went on to say that his government would construct a bridge on Kabompo river at Watopa to provide the shortest route for trade between Kabompo and Lusaka, adding they would also complete tarring Mutanda-Chavuma road in three years time by providing three contractors at the same time who will be based in Kabompo, Zambezi and Chavuma respectively.
He further said once elected his government would build a hydro-power station at Chikata falls near Kabompo and do away with thermo electricity in order to enhance economic activities in the area.
Last week, North-Western Provincial Minister, Kenneth Chipungu cautioned people in the province against listening to false promises made by opposition parties during the campaigns but concentrate on supporting government of the day which has opened mines and discovered oil and gas in the province.
Addressing a stakeholders meeting in the council chamber, Mr Chipungu told the people that the New deal administration was in a hurry to complete the tarring of the Kasempa turn off-Chavuma road which is expected to reach Kabompo by 2010 and also build a hydro power station at Chikata falls in Kabompo in order to facilitate the setting up of oil and gas industries in Kabompo, Zambezi and Chavuma districts that would improve the welfare of the people in the province.
ENDS/MK/PK/ZANIS.