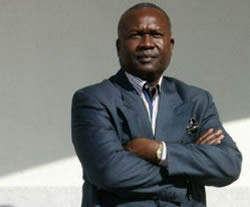 Zambia's self imposed fugitive and former inteligence chief Xavier Chungu has handed himself to the Zambia Police Service.
Both police service spokesperson Boniface Kapeso and Task Force on Corruption Chairperson Maxwell Nkole confirmed in seperate interviews that Chungu was caught at the Lusaka International Airport by alert police officers after they identified him.
Kapeso explained that Chungu has been on wanted list for a long time and he is currently in police custody.
Chungu fled Zambia about four years ago following allegations of plunder of national resources during the 10 years he served as intelligence chief.