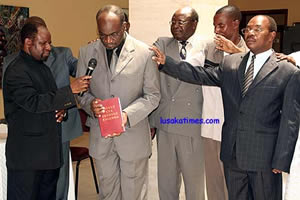 Government has urged the church to continue playing a vital role in reducing poverty levels in the country.
Information and Broadcasting Services Deputy Minster, Elijah Muchima, said the church should not only preach to people but should also assist government in taking care of the under privileged people in their communities.
Mr. Muchima noted that government will always support church projects which are aimed at improving the living standards of people in the country.
He was speaking at the Bible Society of Zambia (BSZ) re- launch of the Mbunda translated Bible in Lusaka today.
He stated that the launch of vernacular Bibles in the country will add meaning to the declaration of Zambia as Christian nation.
Mr. Muchima explained that people who can not read English should be given a chance to study and understand the word of God in their own mouth tongue.
The Deputy Minister further urged people in the country to emulate the Mbunda speaking community and produce more translated Bibles in various local languages.
And speaking earlier BSZ General Secretary, Esther Odani, thanked government for the support rendered towards the production of the Mbunda Bible.
Reverend Odani said her organisation worked closely with government during the translation of the Mbunda Bible.
She further disclosed that the 5,000 produced copies will be sold locally and to neighbouring countries such as Angola and Namibia where they were Mbunda speaking people.
ZANIS/MM/KSH/ENDS
[Read 73 times, 1 reads today]