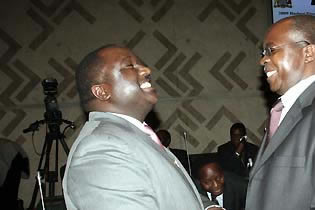 President Rupiah Banda has with immediate effect fired Science and Technology Deputy Minister, Jonas Shakafuswa and Energy Deputy Minister, Lameck Chibombamilimo.
Mr. Banda announced the dismissal of the two when he addressed thousands of MMD cadres who matched to State House on Thursday to show solidarity with his leadership.
The President also said he would also dismiss MMD MPs who are not loyal to the party and face them in their constituencies during by-elections.
Mr. Banda warned that he will take action against all government and MMD leaders speaking ill of his administration.
He said he is aware that there are some bad eggs within government and the MMD whom he will be getting rid of.
The President said as republican President and Acting MMD president he will not tolerate indiscipline.
Earlier, MMD Lusaka Province Acting Chairperson, Cleophas Chimembe said his members will not sit idle while President Banda is being insulted.
Mr. Chimembe said personal attacks on the president will not derail the MMD's commitment to fulfilling promises made during the last election campaign.
Zambia went to the polls on 30th October,2008 in a presidential election following the death of President Levy Mwanawasa.
[Read 32 times, 1 reads today]