By Son Mumbi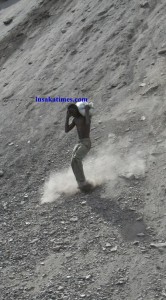 Before the copper boom went bust, I had made a relatively modest sum of money as a copper dealer. In two successful deals, I made such a high profit margin- a percentage too ridiculous to state, even after I had greased several palms.
While I could not afford a brand new Toyota GX, I bought a reconditioned one from Japan. In this car, I drove myself to Monalisa, Sherbourne, Jazz Lazzy -the popular and expensive hang out places in Kitwe for budding dealers like myself. At these places, I bought beers for my mates and for the women who I respected because they were 'working' hard but whom in contexts outside these, I would have derisively called hookers.
For one of these women who frequented Dubai for business I bought new clothes and cologne. I truly looked and felt flashy. In a short while, I was sporting the paunch of success, which came with taking office girls out for chicken and chips and one too many beers.
I did not think to save any money, nor did my friends encourage me to do so, they said, bushe ukai losha, meaning when I'm dead I am going to dream. I blew a sum of money that I could have lived on modestly for a year, in two months.
For the few months after I run out of money, my car was run by the generosity of friends who put fuel and those who wanted to be seen with the flavour of the month. My own earlier free spending meant that I also got free beers from my mates and the hardworking women in the bars.
However,first to cut me off were the office girls when they realised I could not buy them chicken and chips anymore. Later my mates, when I sold my car to try and finance another business deal; I had instead spent the money on an ill advised shopping trip to Johannesburg with the female flavour of the month. No longer 'ba some of us', I am now drinking my beer in the dark hidden dens patronised by the odd former Shimaini who at one time was also a 'somebody'.