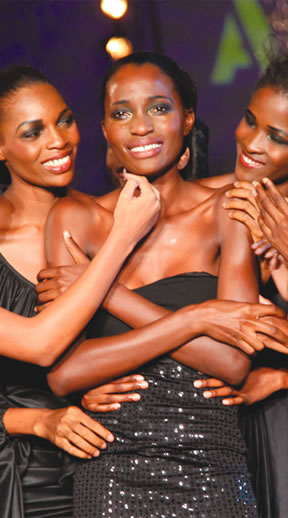 ZAMBIA'S Lukundo Nalungwe yesterday blazed to aesthetic glamour when she bagged the M-Net Face of Africa award and in doing that turned around her life."I am grateful to the Lord and Zambians for having been with me in their prayers.
There are so many girls who could have easily been picked as winners and for everybody who supported me, I say thank you…I am honoured," said the 22-year-old Zambia Institute of Chartered Accountants (ZICAS) student.
Lukundo beat nine other models selected from an initial batch of over 400 and starts her new career with a trip to America this week to take part in the New York Fashion week.
Lukundo, who won the whooping US$50,000 prize, said even after winning the glamourous award, she will not stop school.
"I know this has opened doors to many things but I will remain focused. I am writing my examinations in June and I will remain myself," she said.
It was a tensed up final, with Lukundo having been the last announced in the top five at the event held at Lagos' Eko Hotel and witnessed by a number of dignitaries, including 1988 winner Oluchi, who was one of the judges.
As the last five was trimmed to Lukundo, Zimbabwe's Rosanna Hall and Ernania Rainha Manuel from Mozambique in the last three, it was difficult to know who would strike gold.
Immediately Lukundo was announced winner, tears of joy rolled down her face and minutes later back stage, she made her call to Zambia.
"I phoned my elder sister and all I heard were screams. They sounded happy and I think we will only talk when all of us come to terms with this," she said.
It was elegance, poise and aesthetic glamour that Lukando displayed to make her win the first prize and prop her to fame.
She said she had made a shot at qualifying for the M-Net Face of Africa award three times before, the first having been when she was 18 years.
"I knew I would make it one day and this is why I tell Zambian girls never to give up on their dreams," Lukundo said.
In the post event interview, Lukundo broke down as she remembered her brother who died a day before she was selected to represent Zambia.
Oluchi described Lukundo as the appropriate candidate for the crown.
"She worked hard for six months and deserves to win. Her winning is not based on tonight's events, but events in the last six weeks," she said.
M-Net Africa director of operations Biola Alabi praised Lukundo for winning and appealed to young girls to emulate her hard work.
Other finalists were from Nigeria, Tanzania, Kenya, Angola and South Africa.
[Zambia Daily Mail]
[Read 44 times, 1 reads today]