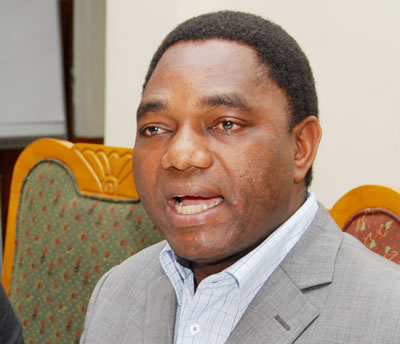 UPND Leader Hakainde Hichilema has described PF leader Michael Sata as a liar and a dishonest person. Mr Hichilema said that it was unfortunate that Mr. Sata who is seeking public and political office can go on Radio to tell Zambians lies about him.
He said that it was a blatant lie for Mr. Sata to mislead the public that the two leaders have been meeting after the collapse of the political pact.
Mr. Hichilema was speaking this morning when he contributed to a live-phone in programme dubbed 'Lusaka Star' on UNZA radio. He said that dishonesty by Mr. Sata was the order of the day even when the two parties were in the pact.
And Mr Hichilema said that his party wanted to agree on policies with PF Leader Michael Sata before forming government because they suspected Mr. Sata could have introduced gay and lesbian rights.
He said that the UPND did not want Mr. Sata to pull a surprise by introducing gay and lesbian rights once in authority.
Mr Sata recently told journalists from Denmark that Zambia has laws that recognise Gay and Lesbian rights which only need implementation.
The church and civil society organisations have since roundly condemned Mr Sata for advocating gay rights.
[ZNBC]
[Read 20 times, 1 reads today]