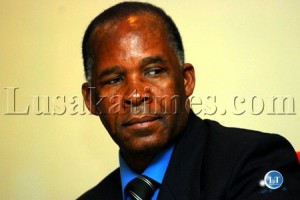 HOME Affairs Minister Mkhondo Lungu has urged people not to politicise the death of a police detainee, Kabayo Kabayo, 16, because he died from natural causes.
Mr Lungu said prison authorities acted promptly when Kabayo fell sick, while medical personnel at Mumbwa Hospital tried their best to save the boy's life, but he unfortunately died.
Speaking in an interview yesterday, Mr Lungu condemned politicians and The Post for casting aspersions at the State that they killed Kabayo who was in police custody at the time that he fell sick.
Mr Lungu said Kabayo, who was diagnosed with a bacteria infection, was initially treated at Mumbwa hospital and discharged after a successful treatment.
He said the boy was re-admitted a few days later but unfortunately died.
"No one takes pleasure when a life is lost, because it's our duty to preserve human life. Doctors at Mumbwa Hospital did their best to treat the young man.
It's not true that the boy was killed. People die whether in prison or outside prison," Mr Lungu said.
He urged politicians to desist from seeking political mileage over the loss of life because death is a sad and painful thing.
He said the death of Kabayo was purely a natural calamity and the people of Zambia should not condon deceit from people who want to seize any opportunity to tarnish the image of Government.
"We need to be calm and cautious of what we say. Politics aside, individuals can fall ill anytime, anywhere," Mr Lungu said.
He said Kabayo was arrested alongside other rioters in Mongu last February to maintain law and order.
The Minister said the arrests were meant to protect lives and property, and that had police not acted they would have been accused of neglecting their responsibility.