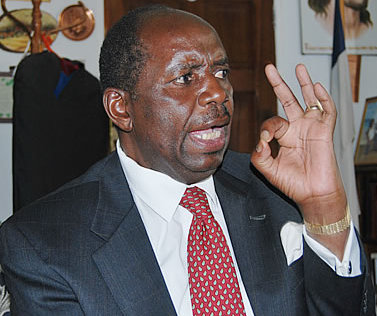 Chikondi Foundation President Bishop John Mambo says it is disappointing with sections of the church body for its indifference to the rising cases of violence in the country.
Speaking to ZANIS in an interview in Lusaka today, Bishop Mambo said he is saddened by the Church's failure to play an active role in addressing the rising levels of violence.
He said he is saddened for the church has been relatively silent on the riotous situation that rocked Mansa district of Luapula Province.
The clergyman charged that the church has become compromised because its leaders have become more self centered above society's interests.
Bishop Mambo said church leaders in Mansa should have gone out of their way to pray and preach the word for God to the citizenry in Mansa and ensure that they do not take the law in their own hands over suspension of ritual killings and murders.
"What has happened in Mansa is very sad especially that the country has been declared a Christian nation. But one tends to ask where the church was when all of this was happening.
" We have compromised ourselves as a church. We are busy blaming government at every stage but we are to blame, what is our role in the governance of the country. We are definitely not doing much," he observed.
Bishop Mambo noted that church leaders are busy preaching prosperity gospel for themselves at the expense of the ordinary citizens.
He said the church should have played a central role in preaching the word of God and assuring the people there that God was more powerful than witchcraft.
"Why fear witchcraft when the bible tells us that in his name we can touch the most deadly snake or drink the most poisonous drink but still stand", he wondered.
The Clergyman said the church has shifted from true biblical teaching of loving one's neigbour to concentrate more on competing amongst themselves.
ZANIS