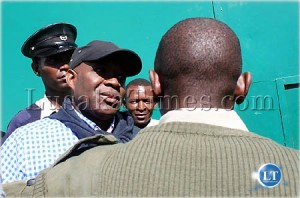 Post Newspaper Editor Fred M'membe has lost a bid to cross examine President Rupiah Banda's Lawyer Christopher Mundia in a matter where Mr M'membe is charged with contempt of court.
This is in the case where Mr M'membe is facing contempt of court charges for defying the court order not to publish libelous articles on President Rupiah Banda during the 2008 presidential by-election.
Lusaka High Court Judge Charles Kajimanga dimissed Mr M'membe's application on grounds that his lawyers had not made a good case to warrant them an application to cross examine Mr Mundia.
Judge Kajimanga also dismissed the plea by Mr M'membe's Lawyers to subpoena Mr Mundia as a witness.
The defence has however been granted leave to appeal against the ruling made on Monday.
[ZNBC]
[Read 14 times, 1 reads today]