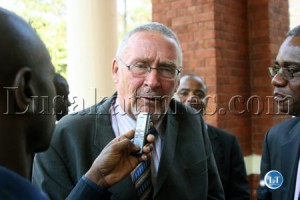 Vice President Guy Scott has revealed that the PF government will table the Freedom of Information bill before Parliament within 90 days. Dr Scott was speaking to Journalists at State House shortly after witnessing the swearing in of Lieutenant General Paul Mihova as Army Commander.
Dr Scott said that there was no reason for opposition political parties to frustrate the Patriotic Front in Parliament.
Dr Scott who is leader of government business in the house said that the PF will only table progressive bills aimed at delivering development to people of Zambia.
The Vice President said that he saw no reason why any elected Members of Parliament should frustrate progressive pieces of legislation such as the Freedom of Information bill.
Dr Scott says if the opposition in Parliament deliberately blocks bills which will be tabled by the PF, the ruling party will have no choice but to tell the Zambian people what their elected representatives are doing in Parliament.
ZNBC