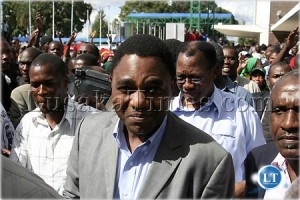 United Party for National Development UPND president Hakainde Hichilema has said that his party will not shield any corrupt person. In reference to the insinuations that he has vowed to defend former president Rupiah Banda from prosecution, Mr Hichilema says it is impossible for his party to defend corrupt people.
He said that it is a known fact that the UPND has never supported any corrupt activities as can be witnessed from its pronouncements. Mr. Hichilema said that corruption was a cancer that should be fought vigorously adding that the fight against graft should be comprehensive, non-selective and professionally done. He said that the UPND will not agree to be used to settle scores as this amounts to vindictiveness and abuse.
And Mr. Hichilema has said that Republican president Michael Sata's speech dashed people's hopes. He said that the UPND is disappointed that president Sata and the new PF government presented its vision statement that did not address some critical concerns of the Zambian people.
Mr. Hichilema has also noted with concern that the president has created new ministries and abolished some without taking the matter to parliament. He said that the president abolished the position of secretary to the treasury illegally without approval of parliament.
But yesterday parliament approved the abolition and creation of new ministries and government department.
QFM
[Read 8 times, 1 reads today]