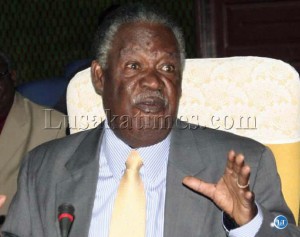 By Elisha Musoma (ZRP President)

Zambians are yet to see the worst of the man they gave the mandate to lead them and will regret why they did not listen. Where I come from they say nalikwebele tabulapo.
We warned our people that Rupiah Banda was even a better devil than Sata and they didn't listen.Now you just have to brace yourselves for the worst because if you expect anything better after what you have so far seen in 90 days you are in for a rude shock because even Chiluba when he took over, it didn't even take the so called 90 days.
Chiluba didn't give himself an ultimatum yet we saw Phoenix and Shimtz contractors constructing and taring roads in all the towns in the country, end the abnormal queues for transport and essential commodities such as cooking oil, mealie meal and sugar among other things. Things like police and teacher brutality ended in less than 90 days together with smuggling and the once famous pick pocketing and the popularly known "by air" on the streets,markets and bus stations.This unlike the development Sata and team is bragging about that of rewarding his cadres like George Mpombo,
Kambwili, GBM, Panji and the legion of Post News paper staff, with good appointments and changing the names of infrastructures while prosecuting his perceived enemies in the name of fighting corruption.
People should not be deceived by cheap political propaganda of President Michael Sata and his choirmaster because if they were seriously fighting corruption, President Sata would not have appointed people who were facing criminal charges in Zambia like George Mpombo,Mutembo Nchito and Sebastian Zulu.He should not have even appointed Maxwell Nkole because we all know in Zambia that a lot of billions of kwacha were misappropriated at the Task Force.
Why has Sata found it prudent to probe people like Nevers Mumba and Hakainde Hichilema now when he is busy appointing people believed and proved to be bankrupt, crooks and those that are facing criminal charges?
What things has President Sata and PF done differently from MMD in the 90 days they have been in power, when he single sourced the contractor at state house and handed over finance bank to his friend who is suspected to have been financing his rallies and who had no doubt flouted banking ethics?
President Sata can fool Bakaponya but not us. But even Bakaponya very soon they will catch up with him and he will be in trouble.
President Sata has never been a democrat and does not have what it takes to carry the country forward and that's the reason why he has resorted to political witch-hunting and vindictiveness.
Sata wants to silence and finish all the opposition political parties in Zambia through intimidation, witch hunt and lies and that's the reason why he first begun by wining Memmbe and Post News paper, catholic church, KK and family and civil society in Zambia to himself while going at the opposition political leaders with the strongest venom ever and he will do anything to ensure his goal is attained -a one party sate and communism.
So he is not fighting people like HH, Nevers or even former president Rupiah Banda because they have done anything wrong, but because he wants them to either be quiet or surrender. By this I don't mean to say that the afore mentioned are innocent. But what I basically mean is that it's not because of what so ever they might have done wrong which they are being persecuted for, but because he doesn't want any opposition however small to exist in Zambia.
Okey for example in the case of Hichilema, if President Sata knows that he is not straight,why did he go into an alliance with him? Who believes Sata that when he complains for example about MMD having flouted tender procedures in selling Zamtel to Libyans,when in less than 90 days he has been President he has made appointments and changes himself without following the right procedures?
As Zambia Republic Party ZRP we don't believe him, though we are in full support that government should not even hesitate to reposes Zamtel.
President Sata's aim no doubt is to die a President and for PF to rule for 100 years through lies, intimidation, witch hunt and completely killing democracy in Zambia; the things he is good at. I repeat Pesident Sata and his surroundings are not democrats and have never been one before. But please let him know that the REPUBLICANS are back!
[Read 14 times, 1 reads today]