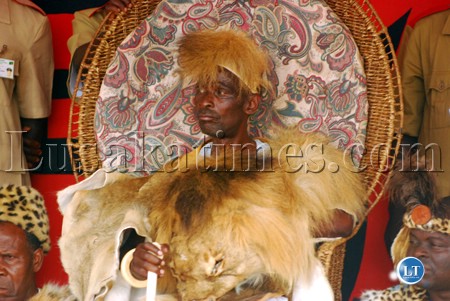 President Michael Sata has directed the Zambia Police to provide maximum security to Paramount Chief Mpezeni of the Ngoni people in Eastern province.
This follows alleged threats of violence against chief Mpezeni from Chiefs Madzimawe and Zamane after he openly called for the lifting of former President Rupiah Banda's immunity to allow him to clear himself against the corruption allegations.
The President said that Paramount Chief Mpezeni just like any other citizen has a right to speak out on issues affecting the Zambians.
President Sata said that he may consider revoking the recognition of Chiefs Madzimawe and Zamane should they continue threatening violence against Paramount Chief Mpezeni.
President Sata has since asked the minister of Justice Sebastian Zulu to write to the two subordinate chiefs warning them against their unlawful activities.
Paramount Chief Mpezeni has described as malicious the Internet story that alleged that President Michael Sata had died.
Paramount Chief Mpezeni said politicians should learn to practice politics responsibly by discussing real issues that can contribute to the welfare of citizens and development of the nation and not issues that can destabilize and bring anarchy into the country.
ZANIS reports the Paramount chief was speaking in an interview with ZANIS in Chipata yesterday.
And Paramount Chief Mpezeni stressed the need for the police to get to the bottom of the issue and ensure that the authors of the story are brought to book.
He wondered why the trend had continued saying this was not the first time that people were spreading such ill rumours about the highest office in the land.
"The police should put an end to such falsehood because it will continue, this rumour was there even before his election when it was alleged that he had collapsed in Mongu," he said.
The false story appeared on Wikipedia website recently. It alleged that President Micheal Sata had died. However , State House described the story as false and malicious.
Meanwhile, Paramount chief Mpezeni has appealed to government to quickly pay the 150 farmers who are still being owed money by the Food Reserve Agency (FRA) for the purchase of maize sold to the agency last year.
Paramount Chief Mpezeni expressed worry that farmers may not have enough yields in the 2011/12 farming season because they have not been able to procure farming inputs.
"Some of them have not even been able to send their children to school because they entirely depend of farming and they only get money once in a year after the sale of maize" he said.
And chief Jumbe of the Kunda people in Mambwe district has also complained about lack of payment to farmers by FRA for the purchase of maize in the 2010/11 farming season.
Chief Jumbe said it is sad that some farmers have failed even to cultivate their fields saying they may not produce enough grain in this year.
Chief Jumbe has since appealed to government to quickly address the situation to assis t farmers in the area.
ZANIS
[Read 33 times, 1 reads today]