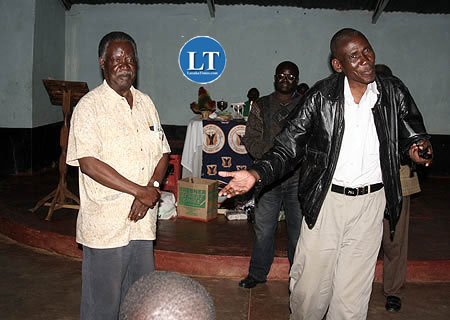 Newly appointed Eastern province Minister Charles Banda has called for discipline and hard work from PF party cadres and government workers in the area.
Mr Banda took a swipe at party cadres in Chadiza who locked out the newly appointed District Commissioner Paul Phiri adding that he will not tolerate that kind of indiscipline.
Mr Banda said the action of locking out the District Commissioner was tantamount to insulting President Sata who is the appointing authority.
ZANIS reports Mr Banda was speaking in his office this week upon taking over the office from Solomon Mbuzi who has been deployed to the foreign service.
The Provincial Minister said the party had structures in which cadres can air their grievances as opposed to exhibiting such indiscipline.
He challenged party cadres who are not happy with the president and party's actions to resign before their hounded out of the party.
He said party cadres and civil servants should work hard to develop Eastern province adding that unity was paramount to achieve the goal.
And outgoing Provincial Minister Solomon Mbuzi called on all government and party officials to give the new minister the support.
Mr Mbuzi said he will be available for advice from time to time should Mr Banda need it.
Meanwhile Mr Banda was received to a rousing welcome by a mob of cyclists and some taxi drivers who escorted him from Lundazi turn off to his office.
ZANIS
[Read 20 times, 1 reads today]