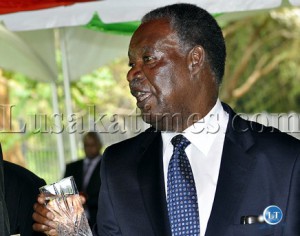 President Michael Sata has made a mini reshuffle at deputy minister level.
President Sata reassigned Deputy Minister for Youth and Sports John Kafuna as Western province minister to replace Mr. Nathaniel Mubukwanu
who has since been transferred to the Ministry of Youth and Sports as Deputy Minister.
Deputy Minister of Youth and Sport Rayford Mbulu has been transferred to the Ministry of Information, Broadcasting and Labour in the same capacity.
President Sata expressed confidence that the transferred deputy ministers will satisfy the functions of their offices.
This is contained in a statement made available to ZANIS by President Sata's Special Assistant for Press and Public Relations George
Chellah.
Meanwhile, President Sata has expressed sadness at the death of senior chief Kalimankonde of the Unga people of Samfya district in Luapula
province.
In his message of condolences to Northern Province minister, President Sata noted that the late chief has been a key instrument in promoting
development among the people of Samfya district.
The President conveyed his deepest sympathies to the royal family on behalf of the people of Zambia.
"Kindly convey on behalf of the People and Government of Zambia and indeed on my own behalf, heartfelt condolences and sympathies to the royal family and the people of Samfya district," the President said in his message of condolence to Luapula province minister.
He said the death of chief Kalimankonde will be deeply felt by the people of Zambia.
The late senior chief Kalimankonde ascended to the throne on September 21, 1991.
ZANIS
[Read 4 times, 1 reads today]