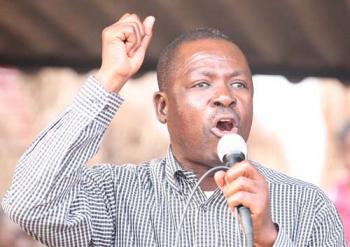 Patriotic Front (PF) secretary general Wynter Kabimba says his membership on the new Zamtel Board will not in any way affect the operations of the company.
Last week government appointed a new board of directors for the embattled Zamtel Telecommunication Company (Zamtel), to be led by the ruling party's secretary general Wynter Kabimba.
Mr. Kabimba says his role on the board will be to ensure that the programme of the party which among other things aims at addressing corruption in the parastatal companies as well as protect the workers from exploitative conditions is implemented.
Mr. Kabimba notes that the PF is committed to ensuring that it delivers according to the expectations of the Zambians in line with the party manifesto.
He has assured that he has principles and will ensure that he does not use his political muscle to compromise the operations of Zamtel.
Mr. Kabimba says he is fully aware that Zamtel has to run as a profitable commercial entity but has vowed to ensure that the interests of the Zambians are protected in its operations.
In addition to Kabimba, Sata has also appointed other party cadres, including former Chimwemwe PF member of parliament Willie Nsanda and Lusaka Province Permanent Secretary Charity Mwansa to serve on the new board of directors, others include Ministry of Finance permanent secretary Dr Abraham Mwenda and a Mr Mwiinga.
In January this year, President Michael Sata dissolved the board of directors for Zamtel and appointed Dr. Mupanga Mwanakatwe as chief executive officer and chairman. The dissolution of the board of directors for Zambia by Sata follows the reversal of the sale of the company to Lap Green Networks of Libya earlier in the same month.
The Zambian government reversed the sale of the company after a Commission of Inquiry appointed by Sata revealed glaring "irregularities and flaws" in the manner in which the company was sold.
The 75% majority shares in Zamtel were sold to Lap Green Networks in 2010 at a total cost of USD275 million after the MMD government claimed it had failed to recapitalise the company, the country's only total solution service provider.
Lap Green Networks has since taken the matter to court, demanding that the Zambian government give Zamtel back to the Libyans.
Mwanakatwe has meanwhile promised to make Zamtel more viable and profitable despite the competition the company is facing for Airtel Zambia and MTN Zambia.
Source[QFM,BizTech Africa]
[Read 33 times, 1 reads today]