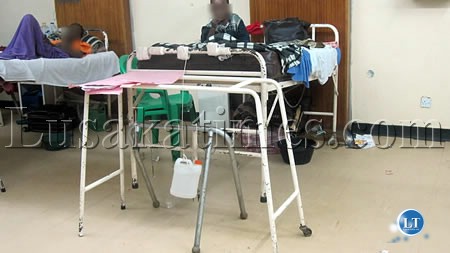 By F.Chalabesa
It's been ten years since I emigrated from Zambia, but I still consider myself truly Zambian. I have been home to visit my family many times and it's the situation in my country that has led me to start this column. I ask myself whether Zambia is still developing or not. Development is defined as a specified state of growth or advancement. The United Nations Development Programme's definition of development is more detailed, 'to lead long and healthy lives, to be knowledgeable, to have access to resources needed for a decent standard of living and to be able to participate in the life of the community'. How are humans affected by the nation's inability to develop? In psychological terms, development does not only involve the biological and physical aspects of growth, but also the cognitive and social aspects associated with development throughout life. As Zambians are we working towards development?
I still remember as a child, at primary school we learnt about Zambia being a developing country, in Social Studies. When I went to high school, we continued to learn about the same topic in Civics. Looking back, I think Zambia was more developed then than now. I will bring back a few memories here to support my claim. In my family for example, dad was the only one who worked while mum stayed at home and looked after us. With one income we managed to have all the necessities in the house, he managed to send all of us to school and he gave us the financial support that each one of us needed. But later of course when we started growing towards teenage life, things became tough on my parents. This was the time we were supposed to be growing towards development.
Education was for every Zambian child, in fact government schools were the best. Our parents made a donation to the school each year, K1.00 per child, from memory. The schools were fully equipped with education material i.e. books, chalk, writing boards, name it. There were government uniform shops with reasonable prices that were subsidised. High schools were also accessible by most Zambians so long they genuinely passed the exams. The schools had enough teachers to teach all the subjects. Scholarships were there for those that performed well at year 12, with no strings attached. Students were selected to universities and colleges on the basis of how they performed at year 12.
For those of us who had the privilege of going to the Mine hospitals, there was everything any patient needs, enough members of staff, equipment, medicines and transport, for both patients and members of staff. Even government hospitals where far much better than what we see today. Hospitals had qualified staff from both Zambia and overseas such that most procedures were performed locally. Patients were treated with respect and each was treated as an individual.
There was continuous water supply, and tap water was safe to drink. The surroundings in the cities and towns were kept to a certain standard, streets were swept and lawns were mowed on a regular basis. The council maintained public places such that they glittered all the time. Roads were tarred and street lighting was so maintained such that walking in the streets at night was enjoyable. Public libraries had books for every citizen to read. The council also controlled prices on commodities in shops and markets (Price control board). There was also control over shopping hours.
We never heard of words like leakages before exams, corruption, liquidation, privatization, rigging, goonga, pin, nicekeleko, akalilo, pirating, street kids, ukubosha, tamanga, etc. All people had to do was to go to school, study and pass exams, then either look for a job or go for tertiary study and that was it. Those that worked did their job and got paid. People were expected to perform as per agreement. People followed rules and those that didn't were punished accordingly. The above happened over twenty years ago when Zambia was still called 'a developing nation'. What do we see today? Is Zambia still developing? Or have we achieved the goal. Living in a developed world has given me a different way of looking at a developing world. The situation in the so called 'developing world' might mean not developing at all, in fact it may actually lead to destruction of whatever is left.
So, what went wrong with the process of developing? Why has Zambia changed so much for the worse if not for the worst? Why is there such a big gap between the rich and the poor? Why do we have the low and high costs? Where is this street language emerging from? Why does everyone want to make money out of everything? Why is there an attitude in most public workers? Why are people harassed in public places by fellow citizens? Why do people including myself leave Zambia for greener pastures? Are we going to sit back and leave the situation to correct itself or until everything is destroyed?
[Read 320 times, 1 reads today]