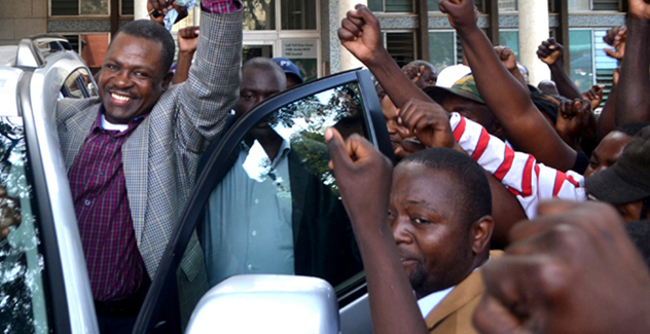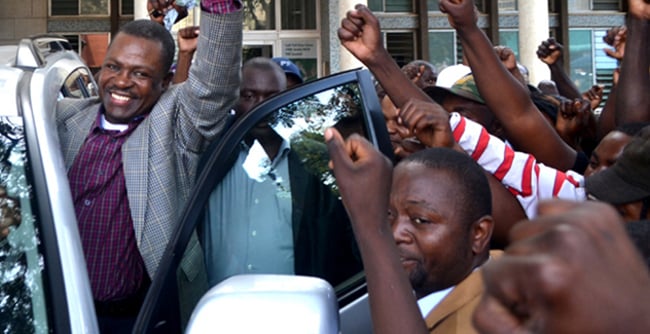 The interview by the Anti-Corruption Commission (ACC) officers with Patriotic Front (PF) Secretary General Wynter Kabimba over alleged oil contract deals today flopped after he refused to be interviewed alone.
Mr Kabimba who is Justice Minister was summoned today by ACC at 15:30 hours but arrived five minutes before the scheduled time and was welcomed by several PF cadres.
Upon arrival, Mr Kabimba was received by ACC public relations manager Timothy Moono and other officials who ushered the Minister inside the building while the cadres also made their way in.
Mr Kabimba was taken upstairs by some ACC officers who earlier persuaded him to leave the party members outside so he could be interrogated alone in one of the offices.
But Mr Kabimba insisted that the matter he was summoned for, was of public interest because it had been all over in the press and there was no way ACC officers could demand to interrogate him alone.
"I want to see the officer who is supposed to interrogate me… because I fixed an appointment at 15:30 hours and infact, I came here five minutes before. I don't want to paraphrase my statement to the media.
"There is nothing to hide in this matter all what I want is the media and all these people around to be present when you interrogate me," Mr Kabimba told one of the ACC officers whilst on upstairs offices.
After conferring with an indentified ACC officer for some minutes, Mr Kabimba was then asked to go back to the waiting room to enable the officers prepare the room that could contain all people who accompanied him.
At the waiting room, several senior ACC officers pleaded with Mr Kabimba to interrogate him alone stating that the matter was 'confidential' but the cadres responded that "We are here to support and protect our S.G and this matter is of public interest and anybody can attend it,"
At this point, ACC deputy director general Irene Lamba appeared and told Mr Kabimba that the interrogation could only go ahead in absence of cadres and the media.
She said," Honourable, this matter is confidential, there are a lot of people around its not possible to do our work," but Mr Kabimba assured her that the cadres were harmless and if anything bad happened he was going to be held responsible.
After a short talk, Mr Kabimba was told to leave the offices by Ms Lamba who said the commission would make fresh arrangements to interrogate him but the cadres also responded that they would not give up in supporting their S.G the next time ACC would summon him.
Mr Kabimba was disappointed that ACC officers had failed to interrogate him after making all his efforts to avail himself before the commission to interrogate him in an open manner.