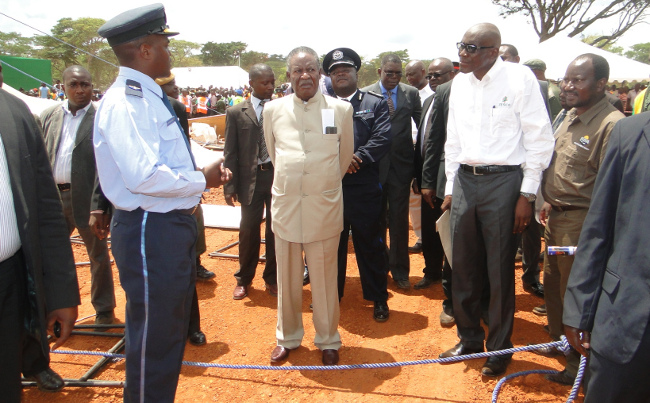 President Michael Sata today took to task senior officials from the Road Development Agency (RDA), Muchinga province administration and the Chinese road contractor, China Gun Xi on why works on the Matumbo road in Chinsali District have not yet been constructed.
President Sata also asked RDA chairperson Willie Nsanda, Acting RDA Chief Executive Officer Bernard Chiwala, Shiwang'andu Patriotic Front (PF) Member of Parliament Steven Kampyongo and incoming Muchinga Province Minister Charles Banda why he was invited to commission the road project which was not yet ready.
ZANIS reports that President Sata wondered why he was invited to commission the road works when nothing has been done on the road project.
This was during the President's visit to Chinsali district to commission road works on the Matumbo-Chama road in Muchinga Province today.
Mr. Sata questioned the RDA officials how the tax payers' money has been used to pay the Chinese contractor, when construction works have not even commenced.
He strongly instructed the contractor, China Gun Xi, to expedite road works or risk having the contract revoked and given to another contractor.
A visibly angry Head of State said he was not interested in seeing heavy road equipment lined up but that he wanted the actual works to be done.
"I haven't seen anything. What have I come to see? Where is the road? I came to see the road and not vehicles…I came to see the road we have paid for.
"We have wasted tax-payers money coming here from Lusaka. When I went to Shiwang'andu, I found a hydro power station which I was called for, how about the road here?" he asked.
President Sata who was speaking to the crowd which had gone to witness the commissioning of the road works said Member of Parliament and government ministers should work hard because they were elected to do so.
He said, had it not been for the people, there were not going to hold the positions they were holding.
He said he would again visit the area to check on the road works but that next time he would not announce his trip.
"The next time, I will be here, I will not inform you that I am coming. I will just come straight here," he said.
He also warned that the government would not hesitate to terminate contracts of contractors who were failing to perform.
"There are many people that can do this job and if you have failed, we can replace you because people are suffering and these are the people that have been voting for governments in order to bring about development," he said.
President Sata was accompanied by former President Kenneth Kaunda who churned out his Tuyende Pamodzi song to the crowd before the President spoke.
Earleir, Chief Chewe told the President that people in Muchinga province were appreciative of the efforts by the Patriotic Front (PF) government to develop the area.
Chief Chewe said the people of Chinsali would rally behind President Sata and the Government to ensure that the developmental projects were accomplished.
ZANIS
[Read 25 times, 1 reads today]