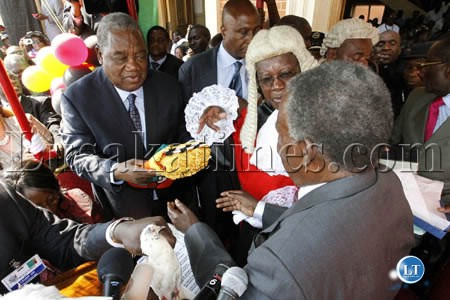 Former Republican President Rupiah Banda has refuted assertions that American Ambassador to Zambia Mark Storella and first Republican President Kenneth Kaunda persuaded him to concede defeat when he lost the 2011 presidential elections.
Mr Banda told Radio Phoenix in an interview from Kenya monitored in Lusaka yesterday that contrary to reports, at no time did Mr Storella nor Dr Kaunda persuade him to concede defeat.
"I have never had a visit from Dr Kaunda…I haven't seen him other than at the funeral of our late mother, his dear wife. As for the American Ambassador, he is there in Lusaka, you can check," he said.
Mr Banda said fortunately both Mr Storella and Dr Kaunda were in Zambia and was hopeful that they would one day come out in the open and tell the people the truth.
He said it had dawned on him that he was losing the elections just after midnight on the day of counting, and yet there were still some flock of people peddling falsehoods that it was not his intention to accept defeat.
"Of course it was my idea to concede defeat in the election results. Nobody could have forced me to do otherwise," he said.
He said it was in view of the foregoing that he felt that he was in a better position to advise whoever would lose in the Kenyan elections to concede defeat.
Mr Banda said unlike in Zambia, the Kenyan press and the people from that country had rejected hatred as a way of campaigning and was hopeful that Zambia could learn something from that.
Meanwhile, Mr Banda is happy with the resilient spirit exhibited by the Kenyan people in that country's general elections.
This was according to a statement released by the Office of the Fourth Republican President's deputy administrative assistant Kennedy Limwanya.
Mr Banda felt the Kenyan elections which took place on Monday had proved that Kenyans were ready to move forward and close the sad chapter of the 2007 elections.
Mr Banda who is in Kenya under the auspices of the Carter Centre International Elections Observer Mission said this when he visited the Elections Observation Group (ELOG) offices where the Mission was shown how the parallel voter tabulation was conducted.
The Carter Centre team also paid a courtesy call on Kenya's Inspector General of police David Kimaiyo who assured that his officers were ready for any eventuality that might arise after the announcement of the final results.
[Read 21 times, 1 reads today]