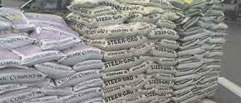 The PF government has contracted a Philippine company called Philippine Phosphate Fertilizer Corporation (PhilPhos) to export its fertilizer products to Zambia.
PhilPhos recently exported around 400 million Peso worth of phosphate fertilizers, which represents 4% of its total exports this year.
Chairman of PhilPhos Salvador B. Zamora II said the company is the first Filipino fertilizer company to export to the African continent.
He said in a statement that penetrating the African market is a major milestone for the firm as it continuously seeks to expand its footprint in other parts of the globe.
Mr. Zamora II said PhilPhos chose Zambia as its entry point in Africa because of its promising agriculture industry, a key growth driver of its economy.
He said his company believes that through its exports, it can help improve the agriculture sector further and generate more jobs for the people.
PhilPhos sees great potential in Zambia, which is opening its doors to foreign investments.
It exports around 65% of its total production outside the Philippines, particularly Vietnam, Thailand, Malaysia, Indonesia and Cambodia as well as to India, Bangladesh, Pakistan, and Taiwan.
[Read 24 times, 1 reads today]