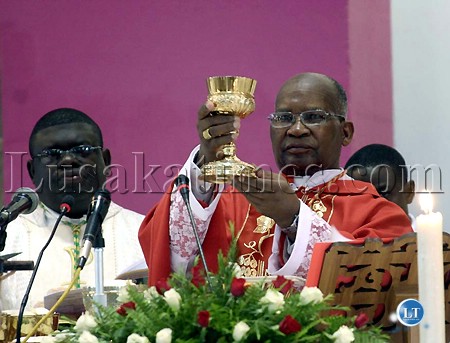 The Catholic Archdiocese of Lusaka and the Zambia Episcopal Conference regret to announce the death of His Eminence Medardo CARDINAL Joseph Mazombwe, the Archbishop Emeritus of Lusaka Archdiocese.
His Eminence, Cardinal Mazombwe passed away in Lusaka's University Teaching Hospital (UTH) on Thursday, 29 August 2013 at around 17.40 hours Zambian time.
Cardinal Mazombwe was born on 24 Sep 1931 at Katete in the Eastern Province of Zambia. He was ordained a Catholic priest on 4 September 1960 and become Bishop of Chipata Diocese on 7 Feb 1971. Between 1996 and 2006, he was the Archbishop of Lusaka until his retirement in 2006.
On 30 November 2010 the then Holy Father, Pope Benedict XVI created the Emeritus Archbishop of Lusaka, Medardo Joseph Mazombwe, as Zambia's first indigenous Cardinal, at a public consistory held in St. Peter's Basilica, at the Vatican.
Cardinal Mazombwe has held several senior positions in the local and regional Church, such as Zambia Episcopal President (1972 – 1975; 1988 – 1990 and 1999 – 2002); and as Chairman of the regional conferences of the Association of Member Episcopal Conferences in Eastern Africa (A.M.E.C.E.A.) (1979 – 1986).
In the months leading to the year 2000, Cardinal Mazombwe, as Archbishop of Lusaka, was an ardent campaigner for the cancellation of Zambia's international debt, in the Jubilee 2000 movement. Most visible among some of his numerous pastoral initiatives, is the sprawling Cathedral of the Child Jesus (Pope Square) in Lusaka.
Cardinal Mazombwe's optimism and courage in the face of Cancer inspired many that visited him in the last twelve months. Even as he grew weak, Cardinal Mazombwe never gave up his passion for the affairs of the Church and the nation.
Other funeral details will be communicated in due course.
MHSRIP.
Fr. Paul Samasumo 29 August 2013
ZEC Spokesperson
[Read 93 times, 1 reads today]