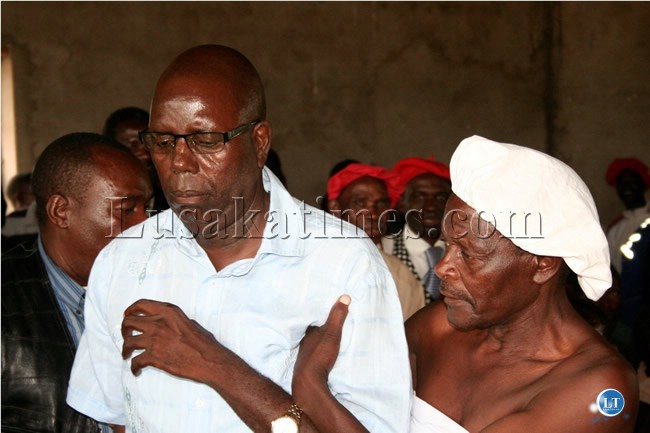 FORMER Barosteland Ngambela Clement Sinyinda yesterday appeared in the Mongu magistrate court after being charged with an offence of treason following his arrest by police.
Mr Sinyinda was apprehended by police on Tuesday in Mongu from his home for allegedly pushing for the secession of Western Province from the rest of Zambia.
Western Province Police Chief Lombe Kamukoshi, who confirmed the development yesterday, said that Mr Sinyinda would appear in court again on October 10, 2013.
In an interview yesterday, Ms Kamukoshi who could however, not avail more details said that Mr Sinyinda was questioned and charged with a charge of treason.
"He was interrogated and charged with treason felony and he appeared in the Mongu magistrate court today (yesterday) but the matter has been adjourned to October 10, 2013," she said
According to sources, Mr Sinyinda's interrogation by police was also in line with his purported communication with fugitive self-imposed Barotseland Administrator General Afumba Mombotwa.
Over 70 people were recently arrested from that province and charged with treason after their ringleaders attempted to hoist a flag to signify the independence of Barotseland from Zambia.
In Livingstone this week, police apprehended two people for publication of seditious materials pertaining to the Linyungandambo Association which was also advocating for secession of Western Province from Zambia.
The duo was found with a computer which was used for publication of business cards, stickers for Baroste police and other rebellious documents for Linyungandambo.
Southern Province Police Chief Charity Katanga named the duo as Dickson Kunda, 29, of Maramba Township in Livingstone and Naude Leon Herinch, 56, a South African national but European of origin.
Their apprehension comes after Linyungandambo Chairperson Afumba Mombotwa was alleged to have circulated a video depicting him to be sworn in as Administrator General of the Barotseland. He is on the run together with his co-conspirators
[Read 23 times, 1 reads today]