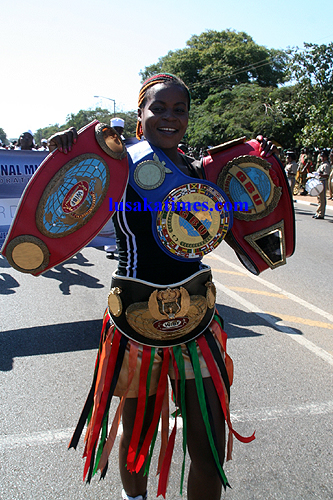 Zambia's female boxer Esther Phiri has officially come out of her retirement following a brief hiatus.
Esther's Promoter and manager Anthony Mwamba confirming this in a statement last evening.
Mwamba says although there was a lot of miscommunication and speculations from various quarters about his boxer's return it does not surprise his stables because the status of Esther Phiri as a world champion.
He however thanked the Professional Boxing Board and Wrestling Control Board (PBBWC) and boxing fans who have remained unyielding in their support.
"Special thanks go to the medical personnel for their professional approach throughout.
"We wish to apologies unreservedly if they felt injured in anyway arising from the speculations and miscommunication during Esther's absence from the ring, 'read the statement in part.
Mwamba has however assured the boxing fans, Esther is back and determined more than ever before to produce the best boxing Zambia has ever seen.
[Read 32 times, 1 reads today]