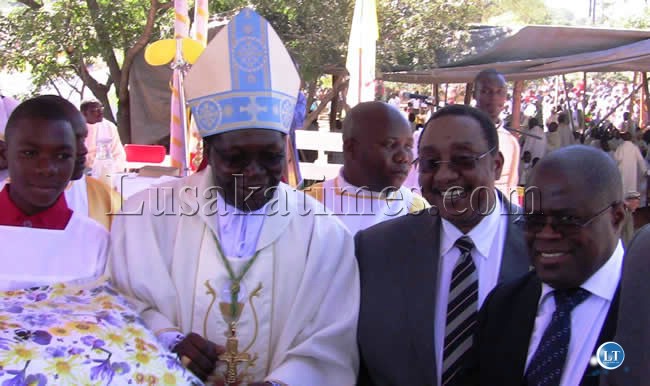 Archbishop Chama's message far removed from Pope Francis' message
The foreignness of democratic political structures, on which Zambia is built, has forced many people to view politics as a secular act, which religious leaders ought to avoid. On August, 2014, for example, Kasama Archbishop Chama reportedly called on Catholic "priests to concentrate on their pastoral work of evangelisation and refrain from being agents of political and social change." To the Bishop, his priests must ignore the political and social challenges their people face—but concentrate on preparing the Catholic faithful for the Kingdom of Heaven—which is ridiculously heretical and far removed from the ministry of Pope Francis whose ministry has a very strong political and social justice angle.
Archbishop Desmond Tutu has constantly argued that Christianity ought not to be the religion that Karl Marx called "the opiate of the people. A church that tries to pacify us, telling us not to concentrate on the things of this world but of the other, the next world, needs to be treated with withering scorn and contempt as being not only wholly irrelevant but actually blasphemous. It deals with pie in the sky when you die––and I am not interested, nobody is interested in the postmortem pies. People around the world want their pies here and now." Sadly, this is what Archbishop Ignatius Chama wants us to believe—Christian will live well in heaven but not on Earth!
Why do African Christians stay away from politics
So why do some African Christians and religious leaders believe that Christians should stay away from politics. In my book, Raised Hopes, Shattered Dreams, I argue that African cosmologies do not define politics in terms of distinct spheres such as economics, religion and sociology.
In Africa, so Patrick Chabal and Jean-Pascal Daloz argue in Africa Works: Disorder as Political Instrument, "the political realm overlaps extensively with all the other spheres of profitable human activity, from the religious to the commercial. Consequently, and crucially, there has not emerged in Africa the kind of differentiated political realm, which is the foundation of politics in the West." Thus a serious student of African politics ought to pay attention to all aspects of African life.
The most telling example of this observation is the word "politics." Most African community cultures do not have a word for it. Ifikansa or ifyongo fyacalo is a Bemba phrase used to translate "politics." Notably, ifikansa or ifyongo can be translated as "noise" or "fighting," and ifyacalo means "of the world/worldly" or "of the land," thus, politics is fighting over the world. The Chewa of Malawi employ the word ndale for "politics." But like the Bemba word, ndale carries a negative connotation, since it means "to trick someone or to make someone fall." Among the Shona of Zimbabwe, the word zve nyika (things of the world) is equally employed to define "politics." In all these cultures, the vocabulary for politics still carries a very pessimistic connotation.
Equally important are the political experiences of many Africans. The political violence and oppressive character of colonial and post-colonial rule define what politics means. To Africans, the blood that was (and is still being) shed during the change of governments confirms that politics is about fighting. In addition, the violence that still characterizes African politics in Zambia, Zimbabwe, Malawi and many other African countries has done little to purify politics in African eyes. This understanding is still shared by some people in the West. Politics is often described as a dogfight.
Pressing the important etymological point further, many African community cultures do not have words for "democracy," "vote," "parliament," or even "political party." Among the Bemba, the word icilonganino ca calo (worldly gathering) is used to employ political party. Ukulonga means to pack, while ukulongana means to gather or to meet. This same word is employed for the Church (icilonganino ca kwaLesa). From this usage, then, some Christians have spiritual reasons for viewing politics negatively. If churches are ifilonganino fya kwaLesa (God's gatherings), while political parties are ifilonganino fya calo (worldly gatherings), and Jesus called us to be in the world but not of the world (John 17:14-15), then Christians should be apolitical.
The identification of politics with worldly things has led many Christians to lose interest in political engagement. In Zambia, religious leaders are involved in the democratization process. But this involvement does not translate into ordinary believers accepting their religious leaders' political engagement as part of their Christian calling—the assumption that Roman Archbishop seems to promote. This situation raises even more questions. Why should Christians run for political office while religious leaders are barred from the same? In addition, how can the Church help African Christians see politics as a sacred duty? Also, how can the Church transform the negative image of politics among God's people? In a country where more than 80 percent self-identify as Christian, it is evidently clear that Christians are among those who avoid the polls, and also engage in politically related violence. So respectfully, Archbishop Ignatius Chama's guidance is highly misleading!
By Rev. Canon Dr. Kapya John Kaoma

[Read 23 times, 1 reads today]