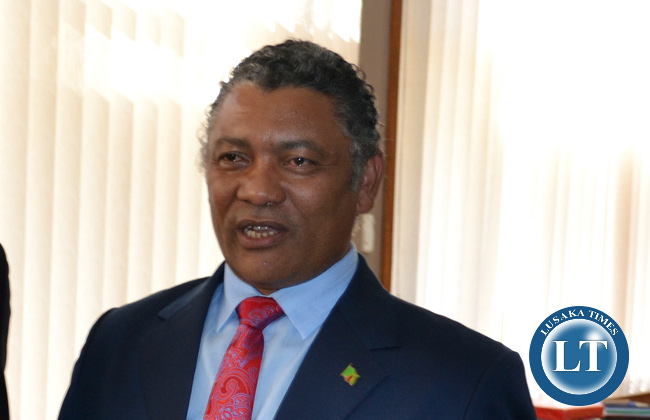 Patriotic Front (PF) Presidential aspirant and Kabwata Member of Parliament Given Lubinda Given Lubinda together, Agriculture Minister Wylbur Simuusa have withdrawn from the PF presidential contest taking place at the parallel extra-ordinary PF conference to elect new party president.
Acting President Guy Scott opened the parallel extra-ordinary PF conference to elect new party president.
The new president will subsequently be adopted as party presidential candidate for the forthcoming presidential by-election slated for January, 20, 2015.
Dr. Scott has since appointed Southern Province Minister Daniel Munkombwe as chairperson of the general conference that will see a new leader elected to succeed the late President Michael Sata.
Several delegates have gathered at the main arena while accreditation is still going on.
Presidential aspirants still in the race are and already at the conference, include Kasama Member of Parliament Geoffrey Mwamba, Commerce Minister Robert Sichinga, Youth and Sports Minister Chishimba Kambwili, Commerce Deputy Minister Miles Sampa, Seleman Pangula and former first lady Dr Christine Kaseba.
However, former first lady Christine Kaseba is yet to arrive at Mulungushi Rock of Authority ahead of the election.
The mood at the general conference is calm and peaceful.
Edgar Lungu's supporters are not present in Kabwe after leaving the conference venue last evening.
Earlier today, the first PF President Elect Edgar Lungu came out tough against Acting President Guy Scott saying he will no longer be pushed around by those opposed to his leadership.
Mr Lungu has since announced that he has with immediate effect fired PF Secretary General Bridget Atanga and her Deputy Anthony Kasolo and has suspended Chairperson for Elections Ms Sylvia Masebo for gross indiscipline.
Mr Lungu told a news conference held at Mulungushi International Conference Centre that he has been patient enough and tolerated all the abuse from Dr Scott and the Cartel but that enough is enough.
"They asked me to hand over power I did, they asked me to hand over position of Secretary General and I did. They somehow feel am very soft and weak and can be pushed around. Let them not be misled by my small body, am very tough inside. I will fall on them like a tonne of bricks,' Mr Lungu stated.
He said Dr Scott is working with some people to frustrate the PF and the vision and legacy of late President Michael Sata.
"Dr Scott has personal hatred against me, he simply doesn't like me but i cannot help him because the people have spoken," he said as the crowd cheered.
Mr Lungu said the other PF general conference taking place in Kabwe today is illegal and revealed that a court order has always been served on the organisers of that meeting from the Lusaka High Court.
"I will not engage in legal interpretations of our constitution with Dr Scott, my lawyers will deal with that. Right now, am so busy, O need to launch my campaigns."
Mr Lungu has since been issued with a Certificate of Adoption as the party's dully adopted presidential candidate by PF National Chairperson Inonge Wina.
And Mr Lungu has with immediate effect fired Mrs Atanga, Mr Kasolo and suspended Ms Masebo for gross indiscipline.
He has since announced that former Lusaka Province Chairman Davies Chama is the new party Secretary General.
Mr Lungu revealed that new appointments to replace Mr Kasolo and Ms Masebo will be announced in due course.
[Read 17 times, 1 reads today]