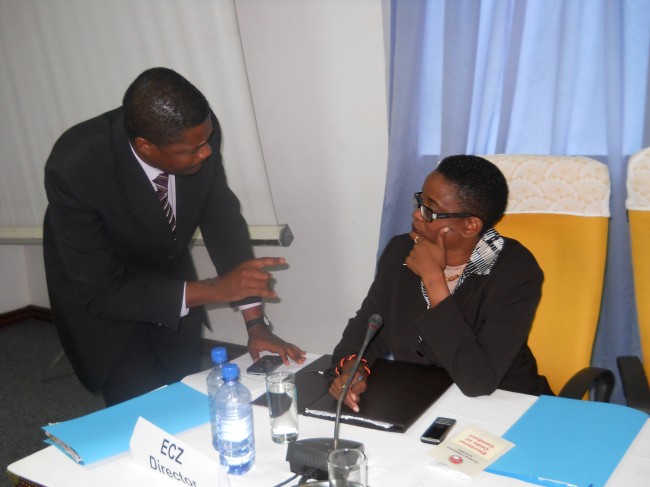 Electoral Commission of Zambia Director Priscilla Isaacs says opposition United Party for National Development (UPND) vice-president Canisius Banda will be summoned for alleging that ballot papers meant to disadvantage his party were being printed.
Speaking to journalists in Johannesburg this afternoon, Ms Isaacs said irresponsible statements by politicians have the potential to cause chaos as well as discourage people from voting.
She said the ECZ will not take kindly to politicians issuing misleading statements to the nation and summoned the UPND vice president so that he can disclose his source of information.
"We have taken great exception to the statement by Dr Cansius Banda and as the Commission we will soon summon him so that he can tell us his source of information.
"It is very disheartening for people to make misleading statements. And what they don't know is that such statements can even work against them because they have the potential to discourage voters," she said.
Ms Isaacs assured the nation that there will be no interference in the production and transportation of ballot papers from South Africa to Zambia in the course of next week.
She said in order to enhance transparency, the ECZ has allowed political parties to monitor the printing process in Johannesburg untill the ballot papers are dispatched to the airport enroute to Lusaka while arrangements were already in place for other representatives to receive the ballot papers in Lusaka.
Ms Issacs urged the political parties and civil society organisations to take advantage of ECZ's facilitation by monitoring the process with keen interest.
"The onus is now on the political parties and civil society to monitor the process throughout," she said.
The ECZ Director also disclosed that the Commission has contracted the Zambia Air Force to air-lift ballot papers to areas that cannot be accessed by road because of the rains.
She said the Commission will soon advise political parties on the areas that would require air lifting of ballot papers.
During a press briefing in Lusaka last Wednesday Dr Banda alleged that his party had information that ballot papers with the ability to fade off ink marks were being printed to be distributed to UPND strongholds.
Zambia goes to the polls on January 20 to elect a president following the death of President Michael Sata in October last year.