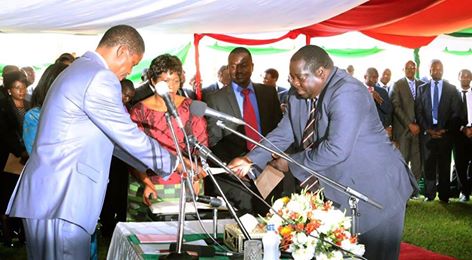 FOR IMMEDIATE PRESS RELEASE.
To MY PRESIDENT, His Excellency Edgar Chagwa Lungu, I say thank you for this opportunity to serve you and the Zambian people. I will not let you down sir.
To my fellow ministers and PF leaders, my hat off and I celebrate you all for your care from the day when we lost HEMCS (mhsrip).
To the Information and Media fraternity in Zambia I say just because am an aggressive leader does not mean I'm irrational or senseless, it is my way of executing my duties. I am a hands on and a time based leader and I demand the job be done to the best of one's ability.
Contrary to the image that has been painted of me in the past I gracefully accept the challenge from HE to sanitise the media industry and to bring back peace to our great nation.
I am for freedom of media, expression and freedom of speech, but I will not tolerate hate speech, tribalism or anyone that poses a threat to national security.
Let us all work together in peace and harmony fellow Zambians.
To you my family, I need your support in my duties. After the swearing in ceremony I had no time to celebrate, eat or sleep I went straight to work and launched the world radio days scheduled for tomorrow 13th February. I am not here to play, but  rather to get the job done, I look forward to working with all media houses for the good of our country.
As Chief Government Spokesperson it is my duty to act as the Middle man between my government and you the people of this great nation, I will travel the length and breadth of this country letting the Zambians know about our economic progress and developmental projects.
I will leave my Stamp and mark in the same way I did at Youth and Sport. And to my esteemed colleagues back at the ministry, may I say it was a great pleasure working with you for 3 solid years, thank you for your hard work. To my new team lets get straight to work.
AND to the men and women in the PF Youth Academy, ?#?Team7500? from the ?#?Akuna_KULAMBWAZA? institute of Edgar Chagwa style, I give you big Hugs. Ooooh you are very wonderful and special greetings from the man Himself, HEECL. You have a lot to do for the Patriotic Front and, but FEAR NOT, and do not be intimidated. I am CK.
Watch this space for Media revival in ZAMBIA !
[Read 17 times, 1 reads today]