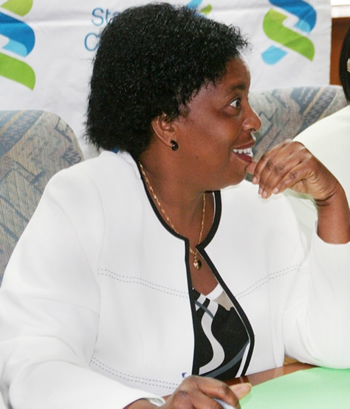 CIVIL servants behind leaking of classified documents should be punished because it is criminal for anyone to give away classified Government letters to unauthorized people, former Federation of Free Trade Unions of Zambia (FFTUZ) president Joyce Nonde Simukoko has charged.
She said civil servants in the habit of leaking classified Government documents should stop the dangerous trend which undermines the security of the nation
Mrs. Nonde Simukoko was commenting on the leaked letter the Anti-Corruption Commission (ACC) Director General Roswin Wandi wrote to President Edgar Lungu over corruption allegations leveled against his political advisor Kaizer Zulu.
She said it was criminal to leak Government documents and people behind such subversive acts should be probed and brought to book.
Mrs. Nonde Simukoko said Zambians were no longer safe looking at how the institutions entrusted with the security of the country were in the forefront of destroying the system by leaking letters and Government documents to outsiders.
"What is happening is frightening because it undermines the office of the President and that of the security system of the country. People should not think that such leakages are aimed at fixing President Lungu. They are aimed at destroying the country because the people will not have confidence in the system, they will not trust the ACC, the police and other security institutions in the country," she said.
Mrs. Nonde Simukoko said there was need to tighten the loop holes, adding that Government should institute investigations and bring to book people behind the scheme.
She said the route the country has taken was dangerous as it undresses the country to foreign elements.
"Some people do it for money, they sell the information and that is why I am saying there is need for Government to critically scrutinize these people before appointing them to certain offices. If this trend is not arrested it will cause problems for this country. It is a bad habit which all well-meaning Zambians should not support," said Mrs. Nonde Simukoko.
She said it was criminal for anyone to be found with classified or confidential documents which included letters, adding that it was high time the people of Zambia respected the office of the President and the individual holding the office.
Mrs. Nonde Simukoko said the people of Zambia were uncomfortable under the current leadership in the security wing who have shown signs of weakness in the manner they were handling issues of leaked documents.