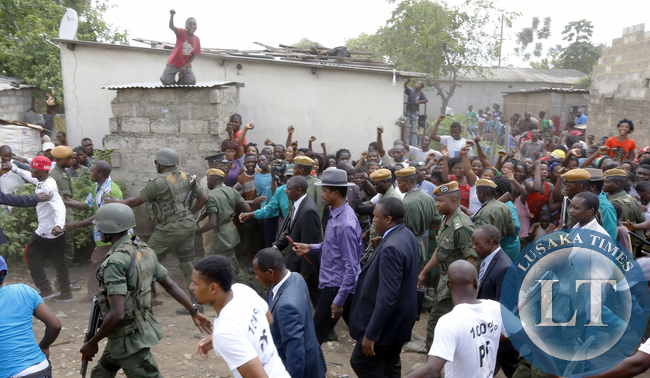 PRESIDENT Lungu is today expected in Solwezi on a three-day working visit to North-Western Province.
President Lungu is expected to arrive at Solwezi Airport at 10:00 hours.
This is according to a tentative programme released by the provincial administration in Solwezi yesterday.
The President is expected to break ground for the rehabilitation of the Solwezi-Chingola road at St Dorothy at 11:00 hours and will later commission works for the rehabilitation of township roads in Solwezi.
President Lungu is also scheduled to inspect the Solwezi fuel reserve depot.
And President Lungu is tomorrow expected to be conferred with the status of free man of the town of Solwezi.
President Lungu will later tour Mushindamo Girls Technical Secondary School on Solwezi-Kipushi road before departing for Kasempa.
President Lungu is expected to commission the NATSAVE bank branch in Kasempa and meet freedom fighters.
On Saturday, The President will travel to Zambezi and Chavuma for a ground-breaking ceremony for the construction of township roads and is expected to return to Lusaka the same day.
President Lungu was recently in the province during which he met victims of landmines and witnessed the defection of United Party for National Development vice-president Richard Kapita to the Patriotic Front.
And RESIDENTS of Kasempa are today eagerly waiting to welcome and have a glimpse of President Lungu, acting district commissioner Mercy Kambita has said.
President Lungu is today expected here to launch a 9.2 kilometre stretch of urban roads and the K3.5 million NATSAVE bank branch in Kasempa.
Ms Kambita said in an interview yesterday that ever since President Lungu assumed office, there has been a shift in people's view of the Patriotic Front (PF).
She said residents now view the PF under President Lungu's leadership as a party to reckon with.
"We have been overwhelmed with people from the United Party for National Development requesting that this office facilitates their defection to the PF but as you know this office is non-political. Our role is to serve everyone regardless of their political affiliation. This, to me, shows the shift in people's attitude towards the PF," Ms Kambita said.
And Ms Kambita said her office is overwhelmed by requests from residents for Government to prioritise construction of Kasempa-Mumbwa road under the Link Zambia 8,000 project because it has economic value than the others earmarked under the same project.
She said Government plans to work on the Kasempa-Kalulushi road and the Kasempa-Kaoma road under the Link-Zambia 8,000 project but residents want the Kasempa-Mumbwa road to be worked on first.
"Under its current status, it is two hours to get to Mumbwa from here. This means if the road is worked on, people can literally be shopping from Lusaka on a daily basis. This will make the cost of living in Kasempa cheaper.
"These are some of the requests the people of this area want our President to consider, Ms Kambita said.
Meanwhile, people in the area have been demanding to know why there are no beneficiaries of the social cash transfer scheme.
"Kasempa, despite being the food basket for the North-Western Province, is a rural and poor district and people are wondering how Solwezi could be benefiting from the social cash transfer while the poor elderly women of this place are denied help," Ms Kambita said.
[Read 15 times, 1 reads today]