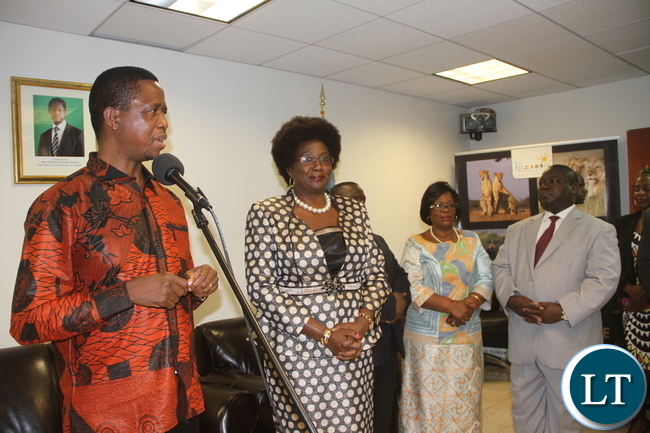 PRESIDENT Lungu has made a passionate appeal for unity and co-existence among Zambians and says he deplores tribal and regional politics that work against the bedrock upon which Zambia was founded.
He said this here at the Zambian Embassy on Wednesday when he addressed Zambians resident in New York.
The President took all manner of questions from all and sundry, including a question about whether it was possible to nominate a member of Parliament (MP) to represent those in the Diaspora.
He wondered about the practicality of the proposal and whether there is any country in the world that has such a system, "in any case, if you are appointed MP, you are supposed to move to Zambia".
The President said he would work hard to unite all Zambians across tribes and regions.
"I realise that we are divided, even the voting pattern shows division but these things will not be there for long as long as I remain here," he said adding, "what I want is to try as much as possible to make everybody feel that they are part of this 'one Zambia, one nation'," President Lungu said.
He said it is normal to differ in society but such should not be forever.
Mr Lungu said he does not base his appointments on appeasement.
He said there is no point in keeping Zambia divided.
"When we can unite. Let's not dwell on things that can divide us; you will remain alone, the rest of Zambia will move on. We are here at the United Nations and we are talking about 'no-one will remain behind', but in Zambia, those of you who want to remain behind by being divided will remain behind," President Lungu.
The President said he needed to be "given room" to work for the good of the country.
"All those who say 'I want to be President' have to wait until I am tired. This is how these things work; those giving me space, I will also give them space," he said.
He also touched on the need for Zambian missions to be self-reliant and the importance to integrate the Zambian education into the international system.
And the President said that Zambia will by March next year have sufficient power to even export, President Lungu has assured.
President Lungu said alternative sources of energy are being explored to ensure sufficient supply.
He said Maamba Collieries will offload 150 megawatts (MW) in January and another 150 MW by June to supplement other sources that Government would secure.
The President said Government is in a "fast-forward mode" to restore normalcy to electricity supply.
Zesco is restricting supply for long hours for both domestic and industrial consumers.
Mr Lungu said Government is working on modalities of exploring other sources of energy instead of restricting itself to hydro-power, the country's only major source.
The alternatives are solar, wind and geo-thermal sources.
"Right now as I am talking to you, people are working 24/7 in Maamba to ensure that we get 150 megawatts by January. Come June next year, we will get 300 megawatts from that source alone," Mr Lungu said.
He invited Zambians to come back home and invest as there would be enough power supply to their business entities
And First Lady Esther Lungu assured Zambians in the Diaspora that the President has their interest at heart and they should not feel isolated even if they are far away from home.
She said with God, there are no boundaries even if people live far apart.
She called for prayers for God's providence.
The First Lady said she is aware that Zambia is going through a difficult time but there is nothing impossible with God.
Mr Lungu was in New York to attend the 70th anniversary of the United Nations General Assembly.
He left New York for Zambia yesterday.
[Read 35 times, 1 reads today]